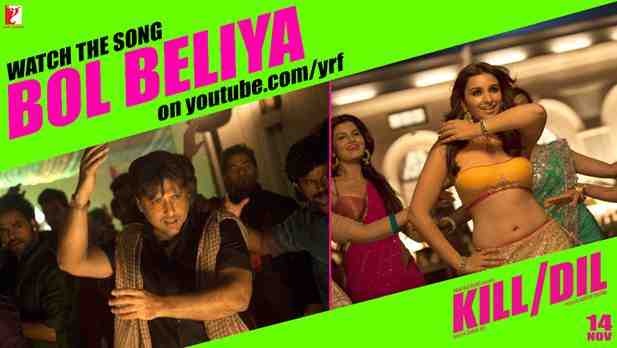 Get ready to enjoy the Bollywood film Kill Dil with Govinda and Parineeti Chopra and dance along to Bol Beliya Kill Dil Ishstyle!
Bol Beliya is sung by Sunidhi Chauhan, Siddharth Mahadevan with additional vocals by Shankar Mahadevan.
Here it goes:
Darwaaze khol ke rakhna koi laut aaye toh
Rasta bhool na jaaye koi laut aaye toh
Saari saari raatein jagna
Galiyaan roshan rakhna
O aane wala laut na jaaye
Bol Beliya… Bol Beliya… Bol Beliya…
Bol Beliya… Bol Beliya… Bol Beliya…
Bhaiyaji (Govinda) gives shelter and nurtures two abandoned and vulnerable young men – Dev (Ranveer Singh) and Tutu (Ali Zafar) – and turns them into carefree killers.
Then fate throws in the free-spirited Disha (Parineeti Chopra). What follows in what has so far been their normal lives, is a game of defiance and deception…and love.
Directed by Shaad Ali and produced by Aditya Chopra for Yash Raj Films, KILL DIL is an entertaining Bollywood thriller about guns and romance.
The film will release on 14th November 2014.