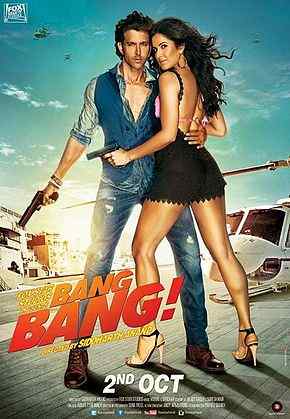 Directed by Siddharth Raj Anand, and starring Hrithik Roshan and Katrina Kaif, Bang Bang! is a remake of the Fox film Knight and Day, starring Tom Cruise and Cameron Diaz, which grossed $3.3 million at the Indian box office in 2010.
Bang Bang! will be released in three different languages – Hindi, Tamil, and Telugu.
IMAX Corporation and Fox Star Studios, a joint company between 20th Century Fox and STAR, announced that the action thriller Bang Bang! will be digitally re-mastered in the immersive IMAX format and released in IMAX theatres across India and select global locations starting Oct. 2.
The film, which Fox Star Studios will distribute and market worldwide, marks the second Indian local-language production to be released in IMAX, following DHOOM:3 in 2013.
In addition, FIP India (Fox International Productions) will be releasing Bang Bang! on more than 4,000 screens in India, with more than 800 screens outside of India across 46 countries, including 250-plus screens in the U.S., making it the widest release ever for a Bollywood film.
"We are hugely excited to be partnering with IMAX on Bang Bang!" said Vijay Sing, CEO of Fox Star Studios India. "Bang Bang! is the perfect movie to be experienced in IMAX on a big canvas, with great action and an immersive emotional experience. Audiences are in for a real treat this October."
Bang Bang! marks the first action thriller for Raj Anand. The film co-stars Danny Denzongpa and Jaaved Jaffrey.