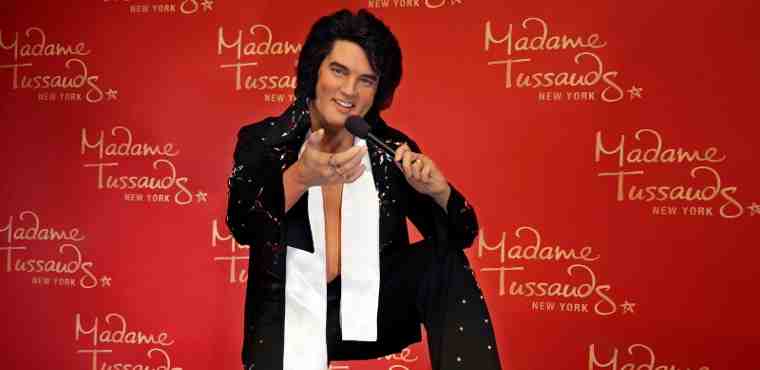 Madame Tussauds New York will begin its celebration of the life and legacy of the late "King" on Thursday, August 6th at Madame Tussauds' New York, located on 42nd St. in the heart of Times Square.
The wax figure of Elvis will be on display in New York just in time to honor Graceland's annual Elvis Week (August 8th through 16th).
Madame Tussauds Studio Artists in London recreated one of Elvis' signature looks for this figure. He is depicted as kneeling and mid-performance ready to woo his audience. He is styled in a black satin, studded jumpsuit ensemble, complete with black leather boots, flashy accessories and a 70s era microphone.
[ Legacy to Release New Elvis Presley Album If I Can Dream ]
During the figure's stay in New York, Elvis will join fellow music legends including Michael Jackson, Whitney Houston and The Beatles in the Madame Tussauds' "Pop Culture" space. The figure will be on display in New York for a limited time before returning to Las Vegas.
Elvis' musical influences were the pop and country music of the time, the gospel music he heard in church and at the all-night gospel sings he frequently attended, as well as the R&B he absorbed on historic Beale Street as a Memphis teenager.
In 1954, he began his singing career with the legendary Sun Records label in Memphis. In late 1955, his recording contract was sold to RCA Victor. By 1956, he was an international sensation.
With a sound and style that uniquely combined his diverse musical influences and blurred and challenged the social and racial barriers of the time, he ushered in a whole new era of American music and popular culture.
Madame Tussauds New York is an interactive attraction, providing guests with opportunities to create memories with some of the world's biggest icons. Prominently located in the heart of Times Square, Madame Tussauds New York is open 365 days a year at 10 a.m.