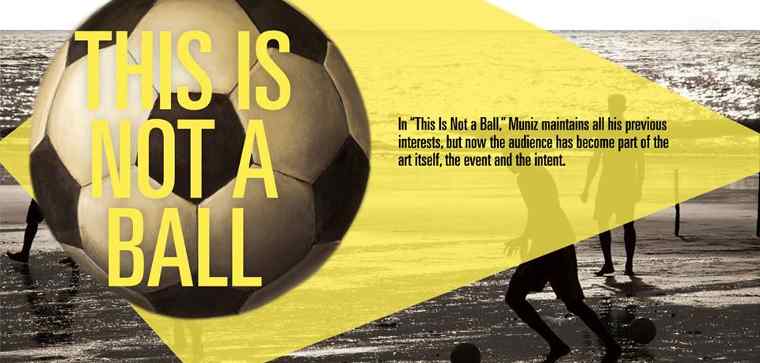 Leading Internet television network Netflix will launch the film, 'This is Not a Ball,' on June 13th in the US.
Produced by Videocine, an affiliate of Grupo Televisa and directed by Academy nominee Vik Muniz and Juan Rendon, 'This is Not a Ball' follows Brazilian artist and photographer Muniz as he explores the world's passion for soccer and creates a major work of art made of 20,000 soccer balls.
The production traveled through nine months and nine countries around the world, visiting cities such as Rio de Janeiro, Mexico City, New York, Boston, Paris, Kyoto, Burma, Nuremberg in Germany, Sialkot in Pakistan, among others.
[ Also Read: Vik Muniz Artwork to Bring Clean Water to Tanzania ]
During his travel, Muniz met with a diverse group of people to discuss their love for 'the ball.' Interviews included ordinary people, children from the slums of Rio, one of the great minds of science, astrophysicist Neil De Grasse Tyson, social activists who use soccer to promote social change, and soccer clubs from around the world like Football League of Amputees in Sierra Leone. Each of these narratives inspired contributions to his work of art.
"My work is already on exhibit in Vidigal in Rio de Janeiro and at the Azteca Stadium in Mexico. The photographs will be auctioned to benefit social causes during the World Cup in Brazil, and the amount collected will be donated to foundations in different cities," said Vik Muniz.
"On behalf of the production team, we are very honored that our work will be available to millions of people around the world through Netflix and other networks."
"'This is Not a Ball' is a groundbreaking story about the universal value of soccer and the true meaning of 'the ball' through the lens of a very talented production team and amazing partners such as Televisa," said Netflix chief content officer Ted Sarandos.
'This is Not a Ball', is a 90-minute documentary, produced by Videocine in association with The Mates Contents (El Mall).
In the production, Vik Muniz makes the viewers think about relevant questions about the ball and soccer, like "why do we play?", "why are we so attracted to the ball?", "why do we kick and chase it?", "how has it become an instrument that generates empathy among people?"
Other soccer related titles available on Netflix include: The Beautiful Game, The Big Green, A Barefoot Dream, The Great Match, 30 for 30: Soccer Stories and 1:1 Thierry Henry.
Photo courtesy: This is Not a Ball