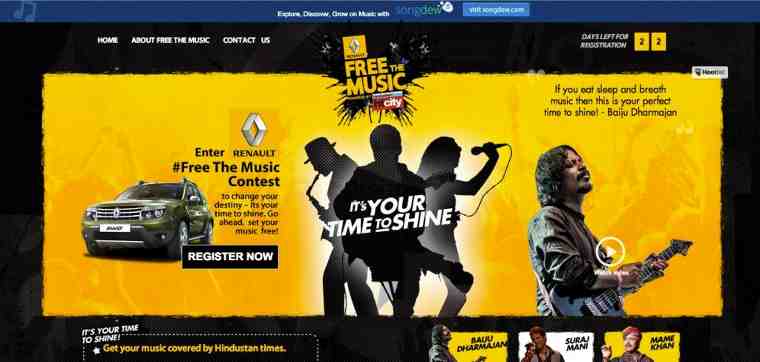 Songdew in association with Renault, a major automobile brand, has launched Renault –Free the Music campaign. It marks the second season of Free the Music series.
The campaign is an online launch pad for rising and promising artists and bands in India to showcase their talent and get career opportunities.
The campaign would select 4 of the independent artists / bands who would launch their music through a series of promotions across media and would also get opportunities of live performances across various cities to take their music out to live audience.
[ Also Read: Online Platform to Help Musicians Sell Directly to Fans ]
"What differentiates this campaign from various other reality shows on TV is that the select artists and bands not only get to showcase their talent and music, but they also get support to strengthen their career for the next 3 years with Songdew," said Sunil Khanna, founder, Songdew.
The campaign is supported by media partners such as Hindustan Times, Radio City, Radio City Freedom, Radio One, GTPL network and Rockstreet Journal.
Songdew is an online music platform for both established and upcoming artists and bands in India.