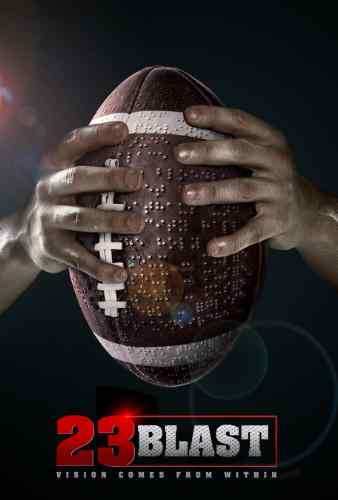 Travis Freeman's story now comes to the big screen in the family-friendly drama 23 Blast.
The Dylan Baker film, inspired by the true life events of Freeman, who played football for Corbin High School in the mid 1990's despite being blind, will release in theaters on Oct. 3, 2014 through Ocean Avenue Entertainment, Inc. in association with Toy Gun Films.
23 Blast is written by Bram Hoover and Toni Hoover, directed / produced by Dylan Baker (Spider-Man 2 & 3, 13 Days) and produced by Gary Donatelli and Toni Hoover.
Executive producers for the movie include Daniel Snyder (owner of the Washington Redskins), Misook Doolittle and Brent Ryan Green.
The film stars Stephen Lang (Avatar, Terra Nova), Alexa Vega (Spy Kids, Machete Kills), Mark Hapka (Days of Our Lives, Criminal Minds), Max Adler (Glee), Bram Hoover, Kim Zimmer (Guiding Light, One Life to Live), Becky Ann Baker (Men in Black, Freaks and Geeks, A Simple Plan) Timothy Busfield (Field of Dreams, thirtysomething), Dylan Baker, and Fred D. Thompson (Sinister, Law & Order, Die Hard 2).
"Our cast and crew had Travis and his family on the set the whole time," says Baker. "He kept us laughing with his upbeat nature. We were inspired by him and his story each day, and 23 Blast is fueled with that spirit of joy and courage he exudes."
"This movie is so much bigger than me," says Freeman. "It represents the gift of a community coming together to help its own, and how faith manifests itself in many ways in the face of a tragedy; such as in hope, love, and personal courage."
Upcoming opening major market cities include New York, N.Y., Los Angeles, Calif. and Washington D.C., among others.