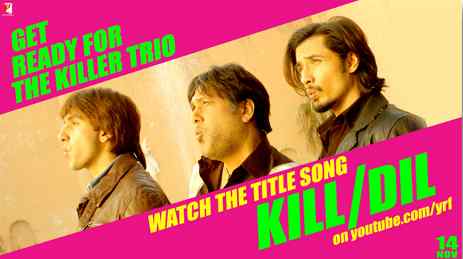 Yash Raj Films, a leading Bollywood film production company, has released the title track for its upcoming film Kill Dil.
Sonu Nigam and Shankar Mahadevan take you into the 'wild wild North' world of the film characters – Dev, Tutu, and Bhaiyaji. It's Waanw… Waanw… Waanw… with Ranveer Singh, Ali Zafar, and Govinda!
Earlier, the film company had launched the 'Will Kill For' social media contest for residents of India.
The contest aimed to promote Kill Dil starring Ranveer Singh as Dev Ali, Zafar as Tutu, Parineeti Chopra as Disha, and Govinda as Bhaiyaji. It's produced by Aditya Chopra and directed by Shaad Ali.
---
Related Stories:
Bollywood Beauty Celina Jaitly to Perform for Lesbians and Gays
Rhea Chakraborty Heats Up the Action in Bank Chor!
Kaum De Heere Film Banned by the Government in India
Daawat-e-Ishq Film Invites You for a Food Yatra
Bollywood Movie Dhoom:3 Releasing in China
---
Once upon a time in North India, two killers – Dev (Ranveer Singh) and Tutu (Ali Zafar), roamed free. Abandoned when young and vulnerable, Bhaiyaji (Govinda) gave them shelter and nurtured them to kill.
All is normal in their lives until destiny throws free spirited Disha (Parineeti Chopra) into the mix. What follows is a game of defiance, deception and love.
You can get more information about the contest on Kill Dil website.
Kill Dil film will release on Nov. 14, 2014.