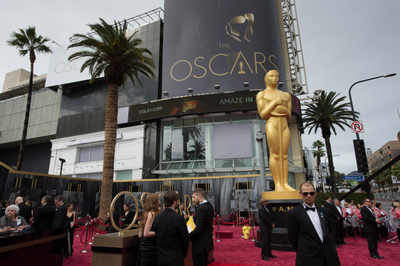 Actors Demian Bichir, Adrian Grenier and Nate Parker, along with the writing / directing / producing team of Jennifer Lee, Chris Buck and Peter Del Vecho, who earned Oscars for "Frozen," will present at the Academy of Motion Picture Arts and Sciences' 41st Student Academy Awards on Saturday, June 7, at 6 p.m. at the DGA Theater in Hollywood.
The awards ceremony caps a week of industry activities for the 15 student filmmakers from the U.S. and abroad who were selected as winners this year.
Oscar-nominated for his work in the film "A Better Life," Bichir currently stars in the critically acclaimed television series "The Bridge." He recently finished shooting his writer-director debut film, "Refugio." His other feature credits include "Che," "Savages" and "The Heat."
[ Also Read: Deconstructing Gravity: Did the Film Deserve the Oscars? ]
Grenier recently wrapped production on the Warner Bros. feature film adaptation of the HBO series "Entourage." Other acting credits include "Cecil B. DeMented," "The Devil Wears Prada," "Goodbye World," and "Sex, Death & Bowling," which is due out in 2015.
Founder of Reckless Productions, Grenier has also produced and directed such documentaries as "Shot in the Dark," "Teenage Paparazzo" and "How to Make Money Selling Drugs," and is currently in production on the documentary "52," which will chronicle the search for the loneliest whale in the world.
[ Also Read: How Oscars Are Losing Their Sheen ]
Parker was most recently seen in the thriller "Non-Stop" opposite Liam Neeson and Julianne Moore. His other feature acting credits include "Red Tails" and "Arbitrage." His next film, "Blackbird," is slated for release in November.
Lee, Buck and Del Vecho took home Oscars earlier this year for the Animated Feature Film winner "Frozen," the highest-grossing animated film of all time. Along with becoming the first female feature director in the history of the Walt Disney Animation Studios, Lee also wrote the screenplay for "Frozen" and co-wrote the 2012 Oscar nominee "Wreck-It Ralph."
[ Also Read: Academy Launches Its First Digital Video Series "Academy Originals" ]
Co-director Buck's other animated feature credits include "Pocahontas" and "Tarzan," and he received a 2007 Oscar nomination for "Surf's Up." Del Vecho, who produced "Frozen," also served as a producer on "Winnie the Pooh" and the Oscar-nominated "The Princess and the Frog."
The 41st Student Academy Awards ceremony on June 7 is free and open to the public, but advance tickets are required. Tickets may be obtained online or by mail.
Photo courtesy: Academy of Motion Picture Arts and Sciences