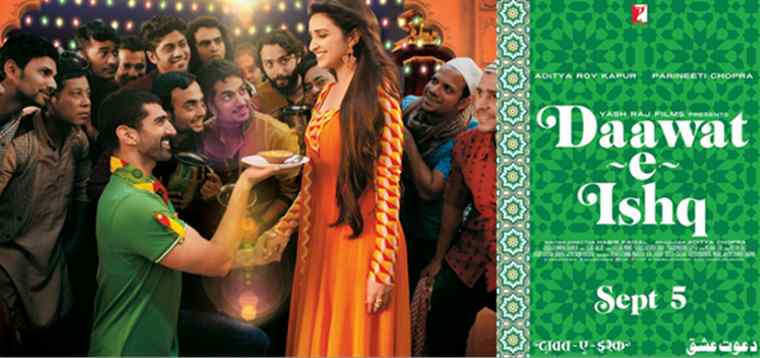 A leading film production company in Bollywood, Yash Raj Films, announced Saturday that its upcoming film Daawat-E-Ishq will release on September 19th. Earlier the film was scheduled to hit the theaters on September 5th 2014.
Giving the reason for postponement of the film's release, the company said it's adopting a "unique marketing idea" for the film's promotion which needs more time to implement, though the details of the stated marketing idea were not revealed.
[ Also Read: Yash Raj Films Releases Daawat-e-Ishq Trailer ]
Daawat-E-Ishq is a romantic tale of Gulrez "Gullu" Qadir (Parineeti Chopra) a Hyderabadi shoe-sales girl disillusioned with love because of her encounters with dowry-seeking men; and Tariq "Taru" Haidar (Aditya Roy Kapoor) a Lucknawi cook who can charm anybody with the aroma and flavours of his biryani and kebabs.
[ Also Read: Ajay Devgn Returns as Bollywood Cop Bajirao Singham ]
In the clash of diametrically opposite but equally spicy cultures of Hyderabad and Lucknow, Gullu and Taru arrive at a "tuning-setting," rewrite traditional recipes of love, crush old-fashioned world-view and make their own masaledaar albeli rangreli pichchar…Daawat-e-Ishq. That's how Yash Raj Films describes it.
Produced by Aditya Chopra, the film is written and directed by Habib Faisal. Music is by Sajid-Wajid.
Aditya Roy Kapoor and Parineeti Chopra fans can now see the movie on its release worldwide on September 19th.