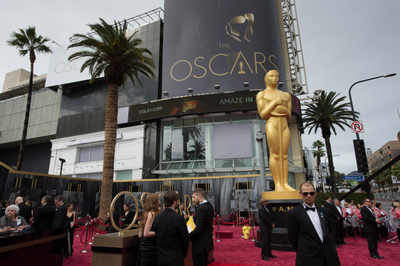 The Academy announced Thursday the relaunch of its grants program, which provides financial support to qualifying film festivals, educational institutions and film scholars.
Online applications are now being accepted for the 2016 FilmWatch, FilmCraft, and Academy Film Scholars programs.
FilmWatch grants support curated screening programs at North America-based film festivals, film societies and other film-related organizations.
Targeted programs include those that create culturally diverse viewing experiences, promote motion pictures as an art form, provide a platform for underrepresented artists, and cultivate new and dedicated audiences for theatrical film.
[ Academy's Tech Council Adds 2 New Members ]
Grants typically range from $5,000 to $30,000. The application deadline is December 15, 2015.
FilmCraft grants support high-quality educational programs that identify and empower future filmmakers from nontraditional backgrounds.
Targeted programs include those that encourage an appreciation of film as both a vocation and an art form, and those that provide direct, hands-on opportunities for participants to gain the filmmaking skills they need to tell their stories.
Grants typically range from $5,000 to $25,000. The application deadline to apply is December 15, 2015.
[ Click here for more news on Academy and Oscars ]
Academy Film Scholars grants are awarded to previously published individuals who are pursuing significant new works of film scholarship. These grants fund research as well as academic and scholarly projects that elevate both filmmaking and film scholarship.
Projects must address cultural, educational, historical, theoretical or scientific aspects of theatrical motion pictures. Those examining elements of the film industry that have been underrepresented in the canon of film scholarship will be given priority.
Two $25,000 grants are awarded each year. The application deadline is January 31, 2016.
The Academy Grants program supports the Academy's overall mission: to recognize and uphold excellence in the motion picture arts and sciences, inspire imagination, and connect the world through the medium of motion pictures. Grant recipients will be announced in March and April 2016.