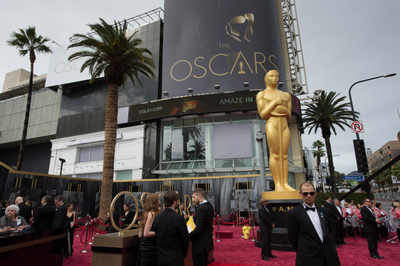 In the week leading up to the 89th Oscars, the Academy of Motion Picture Arts and Sciences will present a series of public programs celebrating this year's nominees in different categories.
The categories include Animated Feature Film, Documentary Feature, Documentary Short Subject, Foreign Language Film, Makeup and Hairstyling, and Animated and Live Action Short Film.
All events will be held at the Academy's Samuel Goldwyn Theater in Beverly Hills.
The Oscar Week schedule is as follows:
OSCAR WEEK: SHORTS
Tuesday, February 21, 7 p.m.
Hosted by director Tim Miller
Miller received an Oscar nomination in the Animated Short Film category for "Gopher Broke" and most recently directed last year's "Deadpool."
The program will delve into the Animated Short Film and Live Action Short Film categories with complete screenings of all the nominated films as well as onstage panel discussions with the filmmakers.
OSCAR WEEK: DOCUMENTARIES
Wednesday, February 22, 7:30 p.m.
Hosted by Documentary Branch governors Kate Amend and Rory Kennedy
Amend is a film editor whose film credits include "The Case against 8" and the Oscar winning documentaries "Into the Arms of Strangers: Stories of the Kindertransport" and "The Long Way Home."
Kennedy is a director-producer who received an Oscar nomination in 2015 for the documentary feature "Last Days in Vietnam."
Her other credits include "Ethel" and "Ghosts of Abu Ghraib." All the films nominated in the Documentary Feature and Documentary Short Subject categories this year will be presented in an evening of clips and onstage discussions with the filmmakers.
OSCAR WEEK: ANIMATED FEATURES
Thursday, February 23, 7:30 p.m.
Hosted by director Pete Docter and Producer Jonas Rivera
Docter and Rivera took home Animated Feature Film Oscars last year for "Inside Out." Docter's other feature credits include "Up, "which Rivera also produced, "Monsters Inc." and "Toy Story."
This year's nominees in the Animated Feature Film category will talk about their creative processes and present clips illustrating their techniques.
OSCAR WEEK: FOREIGN LANGUAGE FILMS
Saturday, February 25, 10 a.m.
Hosted by Producers Branch governor Mark Johnson
Johnson won the 1988 Best Picture Oscar for "Rain Man" and received a second nomination for "Bugsy."
The directors of the nominated films in the Foreign Language Film category will explore a wide range of topics, from their experiences developing their projects to the specific challenges of their profession. The program will include clips from each of the nominated films.
OSCAR WEEK: MAKEUP AND HAIRSTYLING SYMPOSIUM
Saturday, February 25, 3 p.m.
Moderated by Academy Governors Kathryn L. Blondell, Lois Burwell and Leonard Engelman
Blondell is a BAFTA winning hairstylist for "The Aviator" whose other film credits include "The Revenant," "Django Unchained," "Shampoo," and "Harold and Maude."
Burwell won an Oscar for her work on "Braveheart" and was nominated for "Saving Private Ryan." Her other feature credits include "Lincoln" and "The Princess Bride."
Engelman has served as a makeup artist on such features as "Burlesque," "Heat," "Moonstruck," "Rocky IV," and "Ghostbusters."
In Oscar Week's final public event, the nominees in the Makeup and Hairstyling category will reveal the secrets behind their on-screen work. Photographs, appliances, molds, wigs and other items will be on display in the theater lobby.
The 89th Oscars will be held on Sunday, February 26, at the Dolby Theatre at Hollywood & Highland Center in Hollywood, and will be televised live by the ABC Television Network at 7 p.m. ET/4 p.m. PT.
The Oscar presentation also will be televised live in more than 225 countries and territories worldwide.