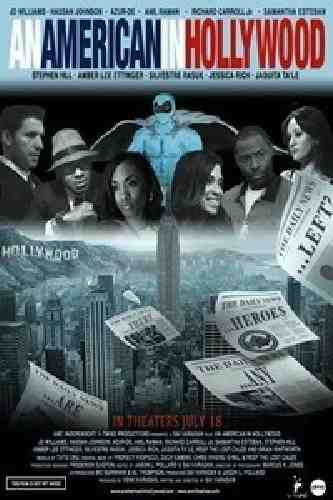 V-Twinz Productions announced its first feature film debuts in a limited theatrical release through AMC Theatres on July 18th.
Written and directed by Sai Varadan, An American In Hollywood is a portrayal of a group of young and talented aspiring film artists, struggling to climb the ladder in Hollywood.
Hailing from New York City, a talented filmmaker Josiah leads childhood friends and fellow artists Dorian and Paul to Los Angeles in pursuit of the Hollywood Dream.
[ Also Visit: Movie Mate – For Your Film Promotion ]
Wielding the artistic powers of writing, directing, acting, stand-up comedy, and graffiti, this team of "Real Artists" battles the "Entertainment Empire" of Hollywood through a humorous and satirical graphic novel-based reality.
Josiah soon crosses paths with a feisty young actress Ayoka who backed by her crew of "Bad Girls", tests the Real Artist's strength, and jeopardizes their ultimate mission of succeeding in the Entertainment Industry.
Featuring an all-star cast including JD Williams (The Wire), Hassan Johnson (The Wire, Belly, Brooklyn's Finest), Samantha Esteban (Training Day, Harsh Times), Anil Raman, Amber Lee Ettinger, and Silvestre Rasuk, "An American in Hollywood" is stated to be a true story of the Hollywood institution and ultimately, the true story of chasing a dream in America.
AMC Theatres (NYSE: AM) operates with 345 locations and 4,976 screens in the United States.