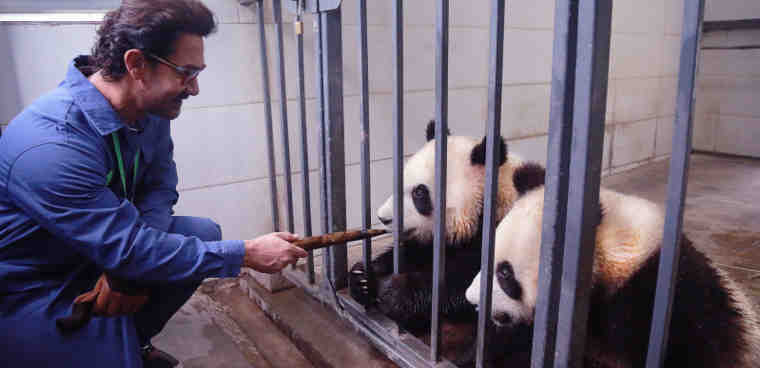 On Thursday 20th April, Bollywood actor Aamir Khan came face to face with giant pandas in Southwest China's Sichuan province.
Khan, who is best known in China as one of the three idiots in the film Three Idiots, on the promotional trip of his new film Dangal, was invited to Sichuan by General Office of Sichuan Provincial People's Government and Information Office of Chengdu Municipal People's Government.
Under the guidance of a nanny of pandas, the 52-year-old Bollywood star learned how to feed pandas as well as about local conservation.
[ Amitabh Bachchan and Aamir Khan to Star in Thugs of Hindostan ]
One of the most important events on Khan's itinerary in Sichuan was watching a performance of tai chi on Mount Qingcheng, an important center of Taoism.
To learn more about the ancient art, he held in-depth exchanges with the master of the Qingcheng school on tai chi's essence and differences among other schools.
After the tour, Khan enjoyed Sichuan cuisine, known for the spicy flavor, at a banquet. During the banquet, he was also treated to the performance of tea art and Sichuan embroidery while the Chinese zither played in the background. He learned embroidery and wrote his name in embroidery.
[ Swachh Bharat: Bollywood Actor Akshay Kumar Empties Toilet Pit ]
Sichuan is one of the most important cradles of the Chinese silk culture. Sichuan embroidery was listed as one of China's intangible cultural heritages in 2006.
Having starred in more than 40 films, Khan has received numerous awards. His film Dangal is scheduled to release in China in early May.
One of Khan's Sichuan trip organizers, a cultural exchange project called "I'm in China", invites foreigners to visit different places in China and experience local culture and customs. Sichuan is this project's first stop. "I'm in China" project is an innovative effort to introduce China to foreigners.