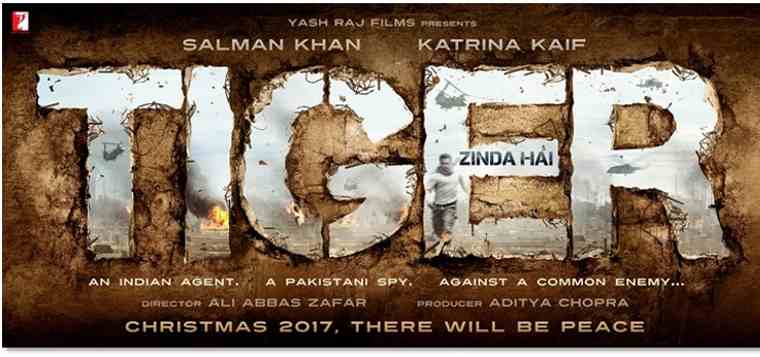 Having its longest shoot schedule in the Emirates, Indian filmmaker Yash Raj Films' Tiger Zinda Hai will be filmed in Abu Dhabi for 65 days.
The film is a sequel to Ek Tha Tiger and will be directed by Ali Abbas Zafar. Salman Khan and Katrina Kaif will star in the film.
Tiger Zinda Hai will commence filming in the Emirate on May 4. twofour54's Film and TV Services division will provide production services. As part of the agreement, twofour54 and Yash Raj Films have already begun construction of a 20,000-sq. metre backlot.
The set is being designed by Rajnish Hedao from Acropolis DMG. More than 150 workers will be on site for a total of 100 days to create the film's main set. The production will also film at several other locations around Abu Dhabi before moving onto the set.
[ Bollywood Actor Salman Khan Stars in Tiger Zinda Hai ]
A crew of 300 is expected to work on the production, with Abu Dhabi-based freelancers working alongside crewmembers from India, the US and the UK.
Demonstrating the government's support for Abu Dhabi's growing production industry, the UAE military is providing military equipment, including choppers during the shoot.
Salman Khan, who plays the title role, said. "Tiger Zinda Hai is a film of sizeable scale and context. Abu Dhabi, with a variety of locations, and gracious hosts, is ideal to shoot for a film like this one. I hope that the entire unit will enjoy our time here."
[ RMN Poll: Are You Satisfied with the Work of Narendra Modi? ]
Katrina Kaif, said "Tiger Zinda Hai shifts to different locations across the globe, and Abu Dhabi fits in perfectly with our story. Additionally, it provides all the comforts and conveniences that a film unit needs. I look forward to shooting in eye-catching locations and on the impressive set here."
Abu Dhabi Film Commission (ADFC) facilitates film and TV production projects in Abu Dhabi, helping to build the UAE's capital as the destination of choice in the MENA region for international and regional TV and film production. ADFC sits under the umbrella of the Media Zone Authority – Abu Dhabi.
Photo courtesy: Yash Raj Films