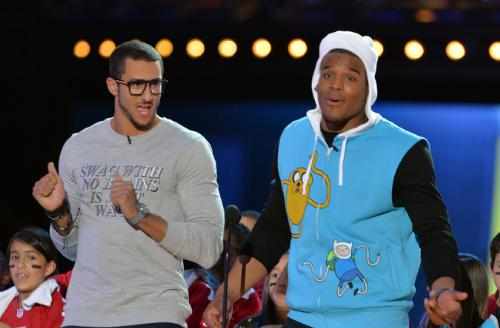 Cartoon Network scored big Saturday night at the fourth annual Hall of Game Awards. After over 100 million online votes were counted the famous GAME trophies were bestowed to the best in sports.
The evening included musical performances by Jason Derulo ("Other Side" and "Talk Dirty") and Fall Out Boy ("My Songs Know What You Did In The Dark (Light Em Up)"), a heartwarming acceptance speech from Olympic Gold Medalist Lindsey Vonn and a show stopping moment when three-year-old YouTube star Titus Ashby scored yet again another winning basket!
[ Also Read: Turner Broadcasting's New Entertainment Programs ]
Richard Sherman presented the "2013 SI Kids Sportskids Of The Year" award to 14-year-old Jack Wellman, who after a sports injury, took up coaching and mentoring a group of young wrestlers in Newtown, Connecticut.
After the tragedy in Newtown, Jack found ways to help his town heal through sports and beyond.
The top GAME awards of the night went to "Captain Clutch" winner Richard Sherman (Seattle Seahawks) presented by Twilight star Taylor Lautner.
Lindsey Vonn (Olympic gold medalist) accepted the "Queen Of The Slopes" award and thanked the crowd for being so supportive during her absence from the XXII Olympic Winter Games in Sochi.
Top moments of the night include hosts Cam Newton and Colin Kaepernick having a sing off of Katy Perry's "Roar".
[ Also Read: Girls Are Back on Cartoon Network ]
Tom Kenny and John DiMaggio (voices of Ice King and Jake the Dog on Adventure Time) kept the audience in stitches donning matching yellow sports coats and dishing hilarious sportscaster-commentary throughout the show.
Then three-year-old, YouTube star Titus Ashby showed off his best moves shooting and making a basket on his first try in front of the crowd. Not too bad for someone less than three-feet tall!
Mascots from the NHL, NBA, MLB and NFL competed in a hilarious obstacle course with Jeremy Shada, voice of Finn on Cartoon Network's Adventure Time taking the role of moderator.
[ Also Read: Robojit Film to Bring More Bang for Each Invested Buck ]
The jam-packed night included stunts by professional skateboarders, BMX bikers and skiers doing crazy stunts and the extreme pogo group Xpogo.
Sponsors for this year's Hall of Game include Pepperidge Farm's Goldfish Flavor Blasted Xtra Cheddar, Hasbro's NERF Zombie Strike and Post Pebbles Cereal, and featured a range of on-air, digital and on-site activations.
In the picture above: Colin Kaepernick and Cam Newton co-host Cartoon Network's 2014 Hall of Game Awards.