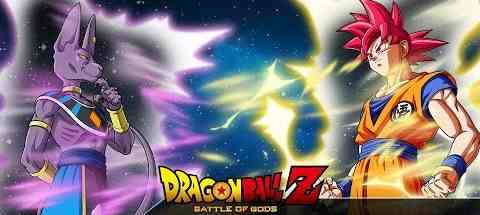 Fathom Events has joined FUNimation Entertainment and Screenvision to bring Earth's greatest heroes to the U.S. in "Dragon Ball Z: Battle of Gods."
Anime aficionados won't want to miss the stunning animation and epic villains featured in the first new "Dragon Ball Z" feature film in 17 years when it comes to movie theaters in the U.S. and Canada beginning August 5.
The beloved franchise's latest opus opened in Japan to a ravenous fan base, which purchased more than 1 million tickets in just six days, reveals FUNimation.
FUNimation and Screenvision will exhibit "Dragon Ball Z: Battle of Gods" in cinemas on August 5, 6, 7 and 9 in the U.S. and Canada. Fathom Events will bring an additional 350-plus U.S. cinemas onboard for August 5 and 6.
[ Also Visit: Robojit and the Sand Planet – The Story of the Future Universe ]
Following the events from the "Dragon Ball Z" television series, after the defeat of Majin Buu, a new power awakens and threatens humanity. Beerus, an ancient and powerful God of Destruction, searches for Goku after hearing rumors of the Saiyan warrior who defeated Frieza.
Realizing the threat Beerus poses to their home planet, the Z-fighters must find a way to stop him. Only Goku, humanity's last hope, can ascend to the level of a legendary Super Saiyan God and stop Beerus from destroying Earth, and possibly the entire universe!
For more information on "Dragon Ball Z: Battle of Gods," you can visit its website.
FUNimation Entertainment is the leading anime company in North America.
Headquartered in New York, N.Y., Screenvision is a cinema advertising company, offering on-screen advertising, in-lobby promotions and integrated marketing programs to national, regional and local advertisers.
Fathom Events is owned by a newly formed entity called AC JV, LLC. Fathom is a leading player in the alternative entertainment industry, offering entertainment events in movie theaters.
The events include live, high-definition performances of the Metropolitan Opera, the performing arts, major sporting events, music concerts, comedy series, Broadway shows, original programming, socially relevant documentaries with audience Q&A, and more.