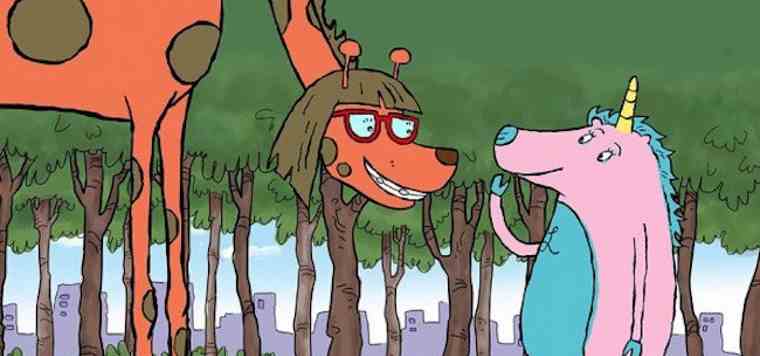 Lily the Unicorn, the latest project from The Jim Henson Company, is now available for viewing and reviewing during Amazon Studios' kids pilot season, which commenced June 26, 2015.
Lily the Unicorn is based on the children's book from author and illustrator Dallas Clayton (The Awesome Book), and published by Harper Collins.
During pilot season, Amazon customers can watch, rate and review for free this unique pilot episode about Lily, a young unicorn whose everyday adventures have a tendency to become whimsical at the drop of a hat.
An outside-the-box thinker, Lily's goal is to show people how easy it is to be themselves! Lily the Unicorn is available for viewing via the Amazon Instant Video app for TV's, connected devices and mobile devices, or online at Amazon.com/AIV.
[ Rdio Music Streaming Service Comes to Amazon Fire TV ]
In Lily the Unicorn, which targets children ages 6–11 and beyond, Lily is not only a remarkable, colorful, and comical gal—she is truly one-in-a-million. Her unique perspective and independent spirit can brighten up any situation and often leads her and her loyal friends into unexpected shenanigans.
In Lily's world, anything is possible: A simple song she hums can go viral and top the charts. A quiet surprise picnic for her best buddy Roger can lead to a city-wide adventure featuring falafel waffles (yum) and a wise guru (of course). Lily the Unicorn puts a hilarious spin on everyday situations as Lily transforms even the most typical day into something extraordinary.
[ RMN Kids – Edutainment Site for Children ]
Created by Dallas Clayton, Lily the Unicorn is produced by The Jim Henson Company. Lisa Henson serves as Executive Producer with Halle Stanford, the Company's Executive Vice President of Children's Entertainment, and Clayton. Animation for the pilot was provided by Snipple.
The Jim Henson Company offers family entertainment with puppetry, animatronics and digital animation.