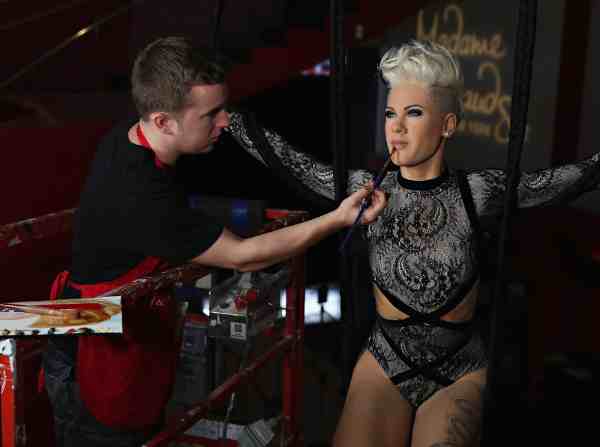 Madame Tussauds New York unveiled Thursday a brand new wax figure of the musical icon Pink. The high-flying figure of the legendary singer was installed in the early hours of June 25, 2015 and was on prominent display, soaring mid-air at 25 feet on silk ropes for the first visitors of the day to see.
The completion of the newly redesigned lobby marks the continuation of Madame Tussauds' investment in their Times Square location as they prepare for their 15th anniversary at the iconic location this Fall.
Pink's figure, which was meticulously created from research by Madame Tussauds' Studio Artists over the course of many months, features the singer on aerial ropes reminiscent of her 2014 tour acrobatics.
[ Movie Mate – For Your Film Promotion ]
The ropes are made of 100% silk and are the same as those used by actual aerial gymnasts. Her dynamic figure will feature a long sleeved, sheer black lace leotard, Pink's classic rocker hairstyle and all of her many tattoos.
Pink, who rose to musical prominence with her breakout albums Can't Take Me Home and Missundaztood, has had a successful career as a singer and songwriter for more than 15 years.
She is the recipient of four Billboard Music Awards, including the 2013 Woman of the Year, and three Grammy Awards including Best Female Rock Vocalist for her song Trouble in 2004.
In addition to her powerhouse vocals and her unique personal style, Pink is known for her dedication to philanthropy and causes such as PETA and the Human Rights Campaign.
The lobby completion marks the conclusion of an ongoing series of renovation projects in the 9-story Times Square attraction. Madame Tussauds has continued to invest in modernizing its space with major overhauls to some of their most famous rooms.
The Sports Zone, Music Space, Film and TV Room and Culture Wing have all undergone comprehensive revamps which include dynamic set designs, interactive activities and impressive new figures such as Lionel Messi, Pharrell Williams, Jennifer Lawrence as Katniss Everdeen and Jimmy Fallon.
Prominently located in the heart of Times Square, Madame Tussauds New York is open 365 days a year at 10 a.m.