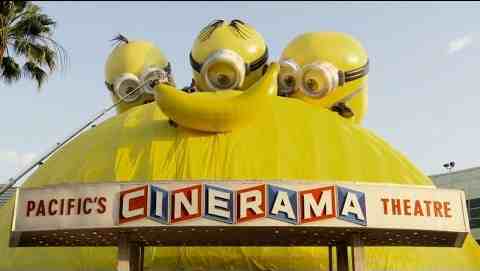 Universal Pictures, Illumination Entertainment, and Pacific Theatres have announced the launch of the Minions Takeover of ArcLight Hollywood in support of Illumination and Universal's upcoming Minions, which will be released in theaters on July 10, 2015.
From now until July 16, Kevin, Stuart and Bob—Minion stars of the upcoming film—will reside atop Pacific Theatres' Cinerama Dome.
The stunning results of a display that went up over the past week, the Minions Takeover required 2,000 hours of work, which included concept development, design, engineering, printing cutting, and sewing.
The Minions and their elusive banana may be seen at the Cinerama Dome at ArcLight Hollywood located at 6360 W. Sunset Blvd., in Hollywood, California.
Statistics of the components of the Minions Takeover include:
The Cinerama Dome wrap required 4,166 square yards of fabric and weighs 2,500 pounds.

Proud and protective Kevin is 50 feet tall and weighs 375 pounds. He sports a size 80 shoe and has a waist that is 69 feet long.

Rebellious adolescent Stuart is 40 feet tall and weighs 300 pounds. He wears a size 64 shoe and has a waist that is 75 feet long.

Innocent and eager Bob is 35 feet tall and weighs 262 pounds. His shoe size is 56, and he has a waist that is 69 feet long.

The Banana for which the Minions are desperately reaching is 50 pounds and if it was an actual piece of fruit, it would weigh approximately 4,233 pounds.
"The Cinerama Dome is an iconic Los Angeles landmark, and we're proud to bring this movie to life with this impressive and fun Minion Takeover," said Gretchen McCourt, executive VP of Cinema Programming, ArcLight Cinemas.
Minions
The story of Illumination Entertainment and Universal Pictures' Minions begins at the dawn of time. Starting as single-celled yellow organisms, Minions evolve through the ages, perpetually serving the most despicable of masters.
Continuously unsuccessful at keeping these masters—from T. rex to Napoleon—the Minions find themselves without someone to serve and fall into a deep depression.
But one Minion named Kevin has a plan, and he—alongside teenage rebel Stuart and lovable little Bob—ventures out into the world to find a new evil boss for his brethren to follow.
The trio embarks upon a thrilling journey that ultimately leads them to their next potential master, Scarlet Overkill (Academy Award winner Sandra Bullock), the world's first-ever female super-villain.
They travel from frigid Antarctica to 1960s New York City, ending in mod London, where they must face their biggest challenge to date: saving all of Minionkind…from annihilation.
Minions is produced by Illumination's Chris Meledandri and Janet Healy, and is directed by Pierre Coffin and Kyle Balda. Brian Lynch has written the screenplay for the film, and Chris Renaud serves as executive producer of the film.