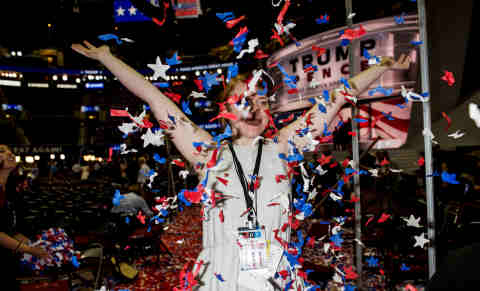 Leading TV network EPIX announced Tuesday that the EPIX Original Documentary Election Day: Lens Across America will make its world television premiere on Tuesday, January 17 at 8/7C.
The documentary weaves together the stories behind the work of seven photographers as they cover one of the most surprising election days in American history, each from a different perspective and location.
Following the day's chronology, the narrative cuts in "real time" between the photographers on the ground in Iowa, Virginia, Georgia, Pennsylvania and New York.
The photographers, through their images and conversations with their subjects, capture an honest and non-partisan look at the many raw emotions of Americans on this one fateful day.
Election Day: Lens Across America, an EPIX Original Documentary / Blumhouse Television Production. Jason Blum, Marci Wiseman, Jeremy Gold and Jessica Rhoades are executive producing for Blumhouse along with Emma Tammi and Henry Jacobson of Mind Hive Film and Adam Barton, Sam Bathrick, and Alex Cullen of Resonant Pictures.
For EPIX, Jocelyn Diaz and Jill Burkhart are executive producers, with Valerie Bishop Pearson serving as producer.
Election Day: Lens Across America is the latest documentary from Blumhouse Television joining the Emmy and Peabody award winning The Jinx: The Life and Deaths of Robert Durst and the Peabody award winning How to Dance in Ohio.
EPIX is a joint venture between Viacom Inc., its Paramount Pictures unit, Lionsgate and Metro-Goldwyn-Mayer Studios Inc. (MGM).
Photo courtesy: EPIX, Danny Wilcox Frazier