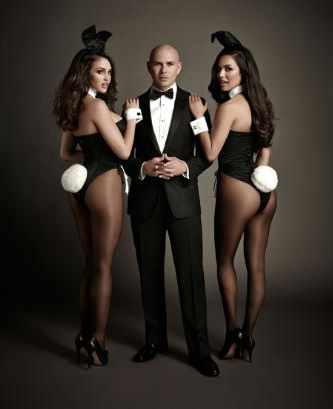 Media and lifestyle company Playboy Enterprises, Inc. announced today that it has entered into a strategic partnership with global music superstar Pitbull.
The relationship, designed as a creative cross-pollination between the worlds of Pitbull and Playboy, will feature a variety of content, experience, and product-related initiatives.
The first example is the upcoming video supporting the performer's new hit single "Wild Wild Love," featuring G.R.L., which was shot at the Playboy Mansion in Holmby Hills, California earlier this month.
[ Also Read: Porn Star Belle Knox Features in Adam & Eve Film ]
"We're bringing new energy and enthusiasm to the iconic Playboy brand in our 60th year," said Playboy CEO Scott Flanders.
According to Playboy, Pitbull (aka Armando Christian Perez) has sold more than five million albums and 50 million singles worldwide, achieving Number One status in more than 15 countries around the world.
Across his various social media platforms, Pitbull drives more than one billion global media impressions every month, says Playboy.
"In order to become an iconic brand you have to partner up with one. What's more iconic than Playboy?" says Perez. "It's an honor to partner with Playboy Enterprises – 'Ladies and Gentlemen you are looking at the new Playboy, Armando Christian Perez.' Thank you Hef, Scott and the entire Playboy team. Dale!"
[ Also Read: Sex Life Survey: People Use Phone and Facebook During Sex ]
The choice of the Playboy Mansion as the setting for the "Wild Wild Love" video provides an early glimpse of the synergies expected to emerge from the partnership, says the company.
The landscape of opportunities in development span Pitbull's touring and appearance schedule, performances and appearances at Playboy events, new content across a variety of media including Playboy Magazine and digital properties, and more to be unveiled in the coming months.