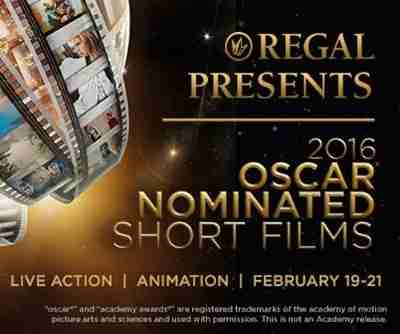 Regal Entertainment Group, a leading motion picture exhibitor in the United States, announces that ten of the best Live Action and Animated Shorts will be available at select Regal theatres.
A number of Oscar-nominated short films across Live Action and Animation will be available for a limited time to watch on the big screen February 19-21.
"Oscar aficionados will want to buy their ticket to see the animated and live action shorts," said Mike Viane, senior VP of Film at Regal Entertainment Group. "These passion projects are not widely available, and Regal is offering a unique opportunity to watch these at the theatre the way the directors intended – on the big screen."
[ Oscars Nominations for All 24 Categories Announced ]
The Live Action Shorts include:
Ave Maria (Palestine/France/Germany)

Day One (USA)

Everything Will Be Okay (Germany/Austria)

Shok (Kosovo/United Kingdom)

Stutterer (United Kingdom/Ireland)
The Animated Shorts include:
Bear Story (Chile)

Prologue (United Kingdom)

Sanjay's Super Team (USA)

We Can't Live Without Cosmos (Russia)

World of Tomorrow (USA)
Regal Entertainment Group (NYSE: RGC) operates a theatre circuit in the United States, consisting of 7,361 screens in 572 theatres in 42 states along with the District of Columbia, American Samoa, Guam and Saipan.