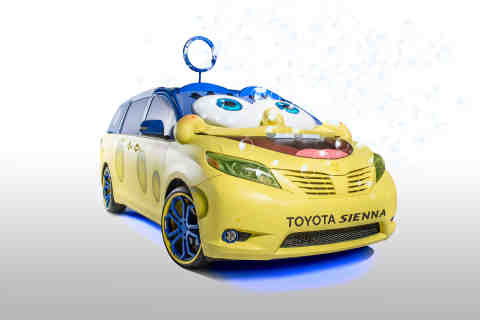 Nickelodeon and Toyota have partnered to develop a new 3-D concept car based on Paramount Pictures and Nickelodeon Movies' upcoming film, The SpongeBob Movie: Sponge Out of Water.
The SpongeBob Movie 2015 Toyota Sienna features a custom three-dimensional SpongeBob SquarePants exterior, complete with the character's Superhero Incredibubble mask that blows real bubbles at the top of the car.
The interior features seating inspired by each of SpongeBob's Bikini Bottom pals, along with a wood-grain dashboard, a custom Captain's steering wheel, a blue-sky head liner and a sand-inspired floor.
The vehicle was unveiled Tuesday and it will roll out on a cross-country promotional tour leading up to The SpongeBob Movie's Feb. 6, 2015 premiere.