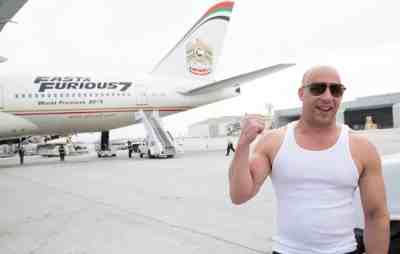 Etihad Airways, the national airline of the United Arab Emirates, and Universal Pictures unveiled Wednesday the Fast & Furious 777 airliner at Los Angeles International Airport (LAX).
Actor / producer Vin Diesel was on hand as Etihad Airways Flight 171 arrived from Abu Dhabi to kick off the global junket and world premiere of Furious 7. The film arrives in theaters on April 3.
Representing a welcome first for the franchise, the Fast & Furious 777 will fly the direct route between Abu Dhabi and Los Angeles, which Etihad Airways opened in June 2014. The airline is also a sponsor of the Furious 7 world premiere, which takes place in Los Angeles on April 1.
[ Paul Walker Appears for the Final Time in Furious 7 ]
As the United Arab Emirates offered an opportunity to inject striking elements and locales into the series' mythology, Abu Dhabi became a key location for the Furious 7 production.
Over the course of two weeks in April 2014, the team lensed in areas outside Abu Dhabi in the Liwa Desert, as well as in the city center at such locations as the Sheikh Zayed Grand Mosque, Emirates Palace hotel, the Yas Marina F1 race circuit and the Etihad Towers.
The Fast & Furious decal will remain on the plane for the next four to six months.
Vin Diesel, Paul Walker, Dwayne Johnson, Michelle Rodriguez, Tyrese Gibson, Chris "Ludacris" Bridges and Jordana Brewster return to form a furious team of seven family members united in purpose.
They are joined by Fast fan favorites Elsa Pataky and Lucas Black, as well new additions to the ensemble including Jason Statham, Kurt Russell, Nathalie Emmanuel, Djimon Hounsou, Ronda Rousey and Tony Jaa.
With Furious 7, this crew heads across the globe for one last ride together in their most gravity-defying and emotional adventure.
And as they form a tighter band than ever: The Furious 7—Dom, Brian, Hobbs, Letty, Roman, Tej and Mia—they will face their greatest threat yet in places as far away as Abu Dhabi and Azerbaijan…and as familiar as the streets they call home.
Photo courtesy: Universal Pictures