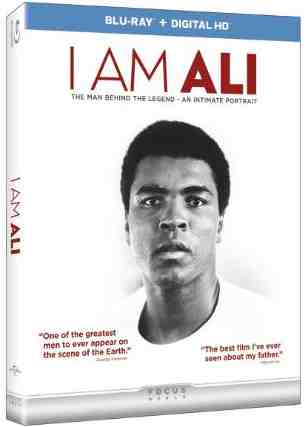 A touching and personal view of the only three-time heavyweight boxing champion in history, I Am Ali comes to Blu-ray and DVD on November 11, 2014 from Universal Pictures Home Entertainment.
The film provides viewers with one of the most in-depth portraits ever of the charismatic global superstar, says Universal.
I Am Ali is stated to be an intimate look at the legendary athlete, beloved father, humanitarian, and activist Muhammad Ali.
[ Also Read: Muhammad Ali — Saved By The Bell ]
With exclusive access to Ali's personal archive of "audio journals," I Am Ali features interviews and testimonials from his inner circle of family and friends, legends of the boxing community—including former heavyweight champions Mike Tyson and George Foreman—and Ali's longtime friend and business manager, Gene Kilroy.
The film shares the champion's extraordinary history as a fighter, lover, brother, father, and friend as told by insiders and by the man himself.
From the executive producer of the Academy Award-winning documentary Searching for Sugar Man, I Am Ali also features a soundtrack with classic songs from the '60s and '70s, including hits by Stevie Wonder, Jimi Hendrix, Aretha Franklin, and many more.
The film will be available on Blu-ray with digital HD, UltraViolet and DVD.