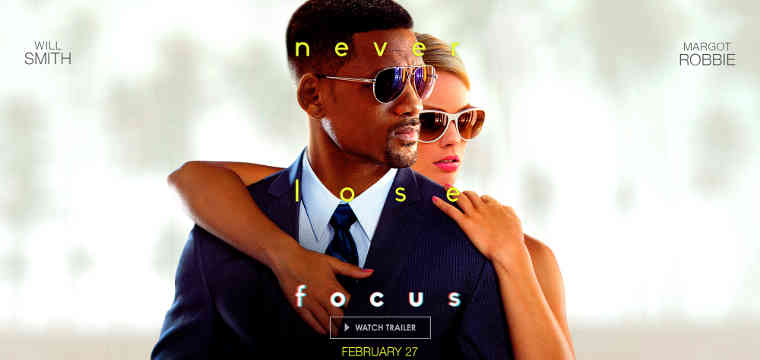 IMAX Corporation and Warner Bros. Pictures have announced that Focus, the latest film from directors Glenn Ficarra and John Requa (Crazy, Stupid, Love.) will be digitally re-mastered into the immersive IMAX format and released into domestic IMAX theatres on Feb. 27, 2015.
The film stars Academy Award nominee Will Smith (The Pursuit of Happyness, Ali) and Margot Robbie (The Wolf of Wall Street).
Will Smith stars as Nicky, a seasoned master of misdirection who becomes romantically involved with novice con artist Jess (Margot Robbie).
As he's teaching her the tricks of the trade, she gets too close for comfort and he abruptly breaks it off. Three years later, the former flame—now an accomplished femme fatale—shows up in Buenos Aires in the middle of the high stakes racecar circuit.
In the midst of Nicky's latest, very dangerous scheme, she throws his plans for a loop…and the consummate con man off his game.
Focus is written and directed by Glenn Ficarra & John Requa (Crazy, Stupid, Love.). Denise Di Novi (Crazy, Stupid, Love.) is the producer, with Charlie Gogolak and Stan Wlodkowski serving as executive producers.
Warner Bros. Pictures presents, a Di Novi Pictures Production, A Zaftig Films Production, Focus. The film will be distributed by Warner Bros. Pictures, a Warner Bros. Entertainment company.