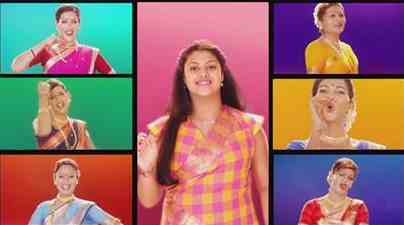 The Brooke Bond Red Label 6-Pack Band has introduced 14-year-old Zanai Bhosle, a granddaughter of an old Bollywood singer Asha Bhosle, for a contemporary rendition of the Marathi song, 'Hil Pori Hila'.
The new version sung in Hindi, English and Marathi is composed by Shameer Tandon, also the curator of the band.
There are no musical instruments used and it has been produced using a format popularly called 'Stomp' where only hands, feet and various objects like boxes, buckets, bottles, Red Label tea packs, cups, spoons, whistles are used.
Apart from the band and Zanai, the fun music video directed by Nupur Bhargava and Hitesh Kewalya of Invisible Rabbit, features 25 underprivileged children from the Salaam Bombay Foundation.
These children are trying to break out of their circumstances and just like the band itself, are nevertheless happy to shake their troubles away.
The Hindi lyrics are by Varun Likhate, and the Stomp Mix has been arranged and conducted by Nishadh Chandra. The band comprises Asha Jagtap, Bhavika Patil, Chandni Suvarnakar, Fida Khan, Komal Jagtap, and Ravina Jagtap.