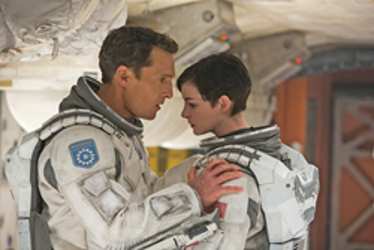 The Academy of Motion Picture Arts and Sciences has announced special public programing, from April 26-May 1, in conjunction with the 2017 Film Librarians Conference – Documenting Cinema: Film Librarianship in the 21st Century and the 2017 FIAF Conference.
Screenings will include a preview of a the new documentary "Harold and Lillian: A Hollywood Love Story," "Party Girl" in 35mm, a Spanish-language double feature, and "Interstellar" in 70mm with three-time Oscar nominee Christopher Nolan.
Screening information as follows:
2017 Film Librarians Conference – Documenting Cinema: Film Librarianship in the 21st Century
HAROLD & LILLIAN: A HOLLYWOOD LOVE STORY (2017)
Wednesday, April 26, 7:00 p.m. at the Linwood Dunn Theater
The inspiring love story between storyboard artist Harold Michelson and film research librarian Lillian Michelson spanned more than 60 years, during which they contributed to some of Hollywood's most iconic examples of visual storytelling.
PARTY GIRL (1995)
Thursday, April 27, 2017, 7:30 p.m. at the Linwood Dunn Theater
Presented in 35mm. With Director Daisy von Scherler Mayer and Actor Guillermo Díaz
Mary, a NYC club girl with a distinct sense of fashion, begins working at a library after she gets busted for illegally charging admission to one of her parties.
Bored with her new job, she soon discovers the joys of mastering the Dewey Decimal system and begins to realize becoming a librarian is her life's calling.
International Federation of Film Archives (FIAF) Congress
Hollywood Goes Latin: Spanish-Language Cinema in Los Angeles (Double Feature)
¡ASEGURE A SU MUJER! (INSURE YOUR WIFE!) (1935)
CASTILLOS EN EL AIRE (CASTLES IN THE AIR) (1938)
Sunday, April 30, 7:30pm at the Linwood Dunn Theater
In the early days of sound cinema, Hollywood made an attempt to reach the Spanish-language market by producing movies in Spanish. Many of these films have been lost, and those that remain are rarely seen or studied.
These two films are an excellent introduction to this fascinating period of early sound production in Hollywood. Presented by The 2017 FIAF Congress, the Academy and the UCLA Film & Television Archive. Both films are presented in Spanish with English subtitles.
INTERSTELLAR
Monday, May 1, 7:30pm at the Samuel Goldwyn Theater
Presented in 70mm with Director Christopher Nolan. In conjunction with The International Federation of Film Archives who has honored Nolan with their annual FIAF Award.
In the not-too-distant future when planet Earth has become nearly uninhabitable, a team of scientists must figure out a way to travel through space and time to alternate galaxies in order to save humanity.
Nominated for five Oscars, and winning an Oscar for Visual Effects, "Interstellar" was directed by Christopher Nolan and written by Jonathan and Christopher Nolan.