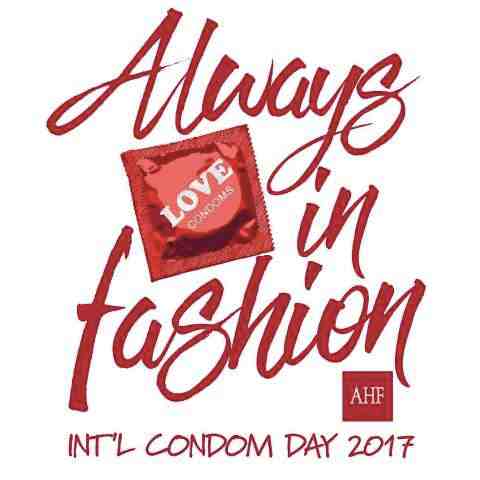 AIDS Healthcare Foundation (AHF), a global AIDS organization operating in 38 countries, celebrates International Condom Day (ICD)—a February 13th holiday.
It is observed in conjunction with Valentine's Day—by promoting prevention of STDs, HIV and unwanted pregnancies through free condom distribution and safer sex awareness events and activities.
AHF will activate over 117 ICD events worldwide, including at least 17 ICD events in the US. This year's International Condom Day theme is, "Always in Fashion!"
[ Click here to read more condom stories ]
Domestically in the US, AHF will host at least 17 events across 12 states: California, Florida, Georgia, Illinois, Louisiana, Maryland, Michigan, Mississippi, New York, North Carolina, South Carolina, Texas and the District of Columbia. Many of these events are aimed specifically at youth, who account for 1 in 4 new HIV infections.
Events range from on-campus condom rallies and HIV testing drives (including a head-to-head testing competition between rival HBCUs Benedict College and South Carolina State University), to condom-themed fashions and dresses modeled on the runways of official Fashion Week events in New York and Miami.
AHF has unveiled its 2017 International Condom Day song, 'Always in Fashion,' a parody (lyrics) of Bruno Mars' latest hit, "24K Magic" to help pump up enthusiasm at ICD events across the globe.