Budweiser, the official beer sponsor of the 2014 FIFA World Cup Brazil, unveiled Wednesday an all new partnership with FOX Sports for a documentary series showcasing six of the most unique football stories from around the globe.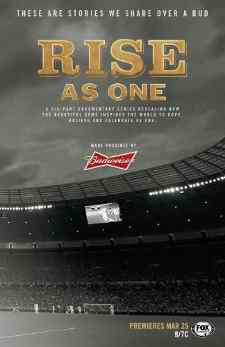 The new series, which will air in more than 55 countries around the world, is part of Budweiser's fully integrated, global content series supporting its new Rise As One FIFA World Cup campaign.
"The FIFA World Cup is such a powerful moment in time which enables the world to join together in celebration of the world's most popular sport," said Andrew Sneyd, global VP, Budweiser.
"We are delighted to collaborate with FOX Sports on this new series and through the Rise As One campaign, to share the many defining moments of football history with the millions of fans around the globe."
The series of football documentaries was developed in collaboration with FOX Sports. Leading up to the 2014 FIFA World Cup Brazil, the six thirty-minute episodes celebrate humanity and perseverance through the stories rooted in world football and also demonstrate how the sport inspires the world to Rise As One.
The first installment of this series will premiere on March 25th in the U.S. and Puerto Rico on FOX Sports 1, America's new sports network. Globally, these films will be distributed in more than 55 countries.
"We think that football fans across the globe will enjoy this series and learn more about how transformative and impactful the beautiful game has been," said Michael Bloom, FOX Sports' senior VP of Original Programming.
Veteran filmmakers Scott Boggins and Gabriel Spitzer, who have a combined 15 Emmy Awards, joined forces to produce and direct the Rise as One documentary series that features exclusive interviews with football legends including FIFA World Cup Champions Ronaldo and Lilian Thuram.
The Fox Sports Originals production premieres Tuesday, March 25 at 8:00 PM ET on FOX Sports 1, and below are brief descriptions of the six episodes:
Power of Unity: In Power of Unity, the Japanese Women's national team overcame intense personal pain to inspire their country after the 2011 tsunami and Fukushima nuclear disaster.
Breaking Barriers: In Breaking Barriers, American and Iran teams go head-to-head at the 1998 World Cup and amid volatile politics and intense scrutiny, broke soft diplomacy on the world stage.
One Nation: In One Nation, the French Men's national team uses the 1998 World Cup to help heal the racial splits within their nation and sport.
Match for Peace: The story of how an exhibition match between World Cup champions Brazil and war torn Haiti, helped lift the spirits of the island nation during one of its darkest hours.
Forever Heroes: Nearly 20 years after a plane crash killed all but three men from Zambia's national team, Forever Heroes shows how the new survivor-led club overcame tragedy to capture the African Cup of Nations, just miles from the crash site.
World War Truce: During a tense, frozen Christmas in World War I, German and British soldiers held a secret cease-fire to play a friendly soccer game.
In addition to its global partnership with FOX Sports, Budweiser also serves as the lead partner of the Kicking + Screening Soccer Film Festival, an annual series of soccer cultural events that brings together football and film enthusiasts to celebrate the game.
Budweiser will debut two of its upcoming documentary series episodes on the big screen when the festival visits New York City from April 8 – 11, 2014. Tickets to the New York City festival are on sale now at kickingandscreening.com.
For more details on Budweiser's creative content series, its partnership with FOX Sports and the Rise As One campaign, visit www.RiseAsOne.com.