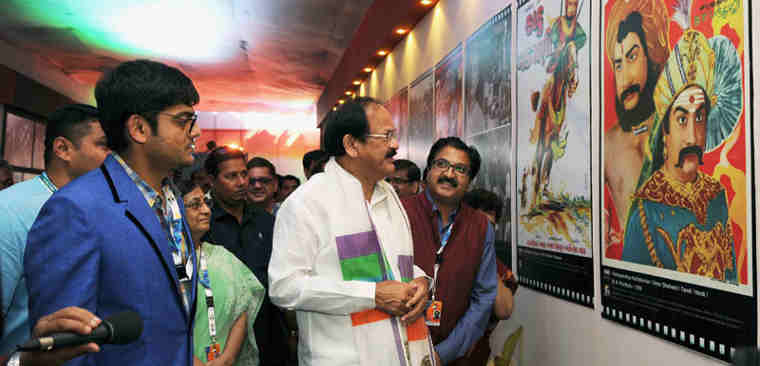 The Minister for Information and Broadcasting, M. Venkaiah Naidu, today inaugurated the multimedia exhibition centred on the theme of 'Aazadi 70 Saal, Yaad Karo Kurbani' to commemorate 70 years of India's independence and its depiction through films.
The multimedia exhibition was organized by National Film Archives of India (NFAI) at the 47th International Film Festival of India (IFFI), 2016, in Panjim, Goa.
Naidu said that the exhibition covers films highlighting our soldiers' and freedom fighters' contribution towards independence and various wars thereafter. The films, from silent era of 1913-31, till date, have been covered in the exhibition.
---
New Bollywood Films:
[ Amitabh Bachchan and Aamir Khan to Star in Thugs of Hindostan ]
[ Bollywood Actor Salman Khan Stars in Tiger Zinda Hai ]
[ Befikre Film Trailer Released at the Eiffel Tower ]
---
"Indian film industry being one of the most diverse with more than 42000 films, has immensely contributed towards patriotism, which is very well displayed at the exhibition." the minister said.
He also inaugurated the revamped NFAI website, NFAI New Year calendar with a theme of Dance in Indian Cinema and Exhibition on Virtual Reality (VR).
The exhibition is open for all during IFFI, till 28th November.