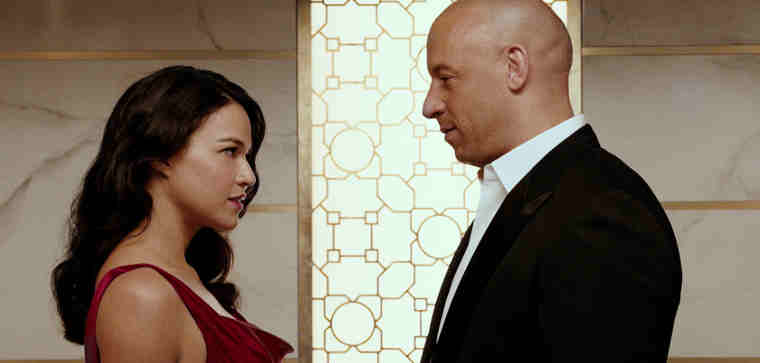 Universal Pictures' Furious 7, which released Friday, has recorded an impressive box office collection of $384 million for the past weekend.
Rentrak, which measures the performance of movies, announced Sunday the worldwide box office estimates for the weekend of April 5, as compiled by the company's theatrical measurement services.
Fast & Furious 7 marks the final film appearance of Paul Walker, who died on November 30, 2013 when the filming was underway.
Filming was delayed after Walker's death as the script was rewritten. His brothers Caleb and Cody Walker stepped in as stand-ins to complete his remaining scenes.
Furious 7, released on April 3, is the sequel to the 2013 film Fast & Furious 6 and the seventh installment in the Fast & Furious film series.
"Audiences around the globe got furious at the movie theater as Universal's 'Furious 7,' put the box office in high gear and smoked a massive international weekend estimate of $240.4 million," said Rentrak's senior media analyst Paul Dergarabedian.
"This is Universal's highest grossing international weekend by a mile, beating the previous record holder 'Fast & Furious 6' and its $162 million performance. Combined with the U.S. estimated gross of $143.6 million, the worldwide total is already a whopping $384 million."
According to Rentrak, the top 12 worldwide weekend box office estimates, listed in descending order, per data collected as of Sunday, April 5, 2015, are below.
1. Furious 7 – Universal – $384.0M
2. Home – 20th Century Fox – $48.1M
3. Cinderella – Disney – $34.6M
4. Divergent Series: Insurgent, The – Multiple – $25.5M
5. Wolf Warriors – Multiple – $22.0M
6. Kingsman: The Secret Service – 20th Century Fox – $21.7M
7. Let's Get Married – Multiple – $16.2M
8. Get Hard – Warner Bros. – $15.5M
9. Spongebob Squarepants: Sponge Out Of Water – Paramount – $6.0M
10. Focus – Warner Bros. – $5.3M
11. Twenty – Next Entertainment – $5.3M
12. Shaun The Sheep – Multiple – $4.8M
Rentrak is the entertainment and marketing industries' leading provider of worldwide consumer viewership information, measuring actual viewing behavior of movies and TV everywhere.