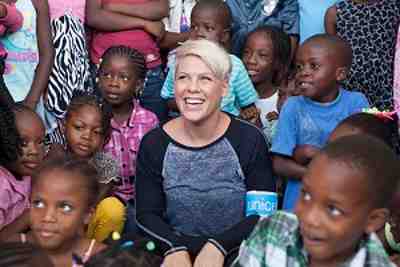 The U.S. Fund for UNICEF announced Monday the appointment of the newest UNICEF Ambassador, Grammy Award-winning recording artist P!nk.
P!nk will build on her current role as the UNICEF Kid Power National Spokesperson to raise awareness about UNICEF's lifesaving health and nutrition programs around the world.
As a UNICEF Ambassador, P!nk will use her voice to encourage families across the United States to get active and save lives with UNICEF Kid Power, the "world's first wearable-for-good."
She will also educate the public about UNICEF's global health and nutrition programs, and highlight UNICEF's role in fighting global malnutrition, which impacts 159 million children worldwide.
[ What Is the Effect of Climate Change on Children? ]
"As a mom myself, it's devastating to know that children are suffering because they don't have adequate nutrition. All children should be able to grow up strong and healthy, with the opportunity to reach their full potential," said P!nk.
"As a UNICEF Ambassador, I want to use my platform to help end global malnutrition, which is why I'm so excited about UNICEF Kid Power – which gets kids and families involved in saving children's lives."
[ How India Abuses Children's Right to Education ]
By getting active with the UNICEF Kid Power Band, kids go on missions to learn about new cultures and earn points. Points unlock funding from partners, parents and fans, and funds are used by UNICEF to deliver lifesaving packets of therapeutic food to severely malnourished children around the world.
In her new appointment as a UNICEF Ambassador, P!nk joins a roster of celebrities who have advocated for children on behalf of UNICEF, including Audrey Hepburn, Téa Leoni, Sarah Jessica Parker, Laurence Fishburne, Alyssa Milano, and Selena Gomez.
[ RMN Foundation: Friends of the Future Schools in India ]
P!nk (Alecia Moore) is an American singer, songwriter, and actress. She has released 7 records, sold over 40 million albums, 74 million singles, and has had 14 top 10 singles in the Billboard Hot 100 Chart.
She is the recipient of 3 Grammy Awards, 3 Billboard Music Awards, 6 MTV Video Music Awards, 2 MTV Europe Awards, 2 People's Choice Awards, and was named Billboard's Woman of the Year in 2013.
In addition to her work as a UNICEF Ambassador, she is a supporter of various charities including the Ronald McDonald's House, Make A Wish Foundation, PETA, Autism Speaks, Human Rights Campaign, and No Kid Hungry.
Photo courtesy: UNICEF