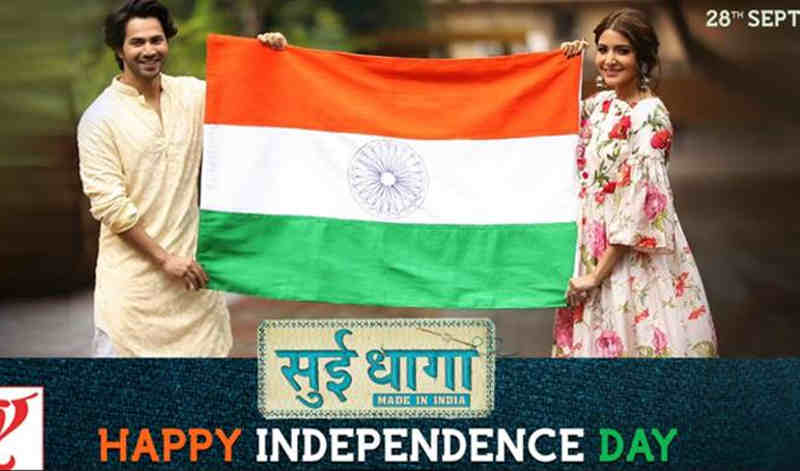 On the occasion of the Independence Day of India, Bollywood actors Anushka Sharma and Varun Dhawan celebrated it with a special gesture.
Like the name of their film Sui Dhaaga – Made in India, artisans from the corners of India have got together to create a handmade tricolor flag that celebrates Indian craftsmanship. Varun and Anushka shot with the handmade flag as they waved the national flag.
"When I was told that our artists have worked tirelessly day in and day out to make our national flag that gives a tribute to the brilliant history and diverse culture of craftsmanship of our country, I was keen to see the outcome. The artists have really made a truly special flag that captures the diversity and unity of our country and it has made my Independence Day even more special," Anushka said.
[ Independence Day! Are You Independent in Modi's India? ]
Varun added, "As an Indian, I feel proud to hold my national flag every time I get the opportunity to do so and Sui Dhaaga has made that experience even more special as we are celebrating our Independence Day by saluting the brilliant homegrown arts and crafts industry. Our film's spirit of Make In India resonates with the pride and honour of Independence Day and our handmade flag is a humble salute to our spirit of freedom."
A film about finding love and respect through self-reliance, Sui Dhaaga – Made in India has paired Varun and Anushka together for the first time.
While Varun plays the role of a tailor, Anushka plays an embroiderer in the film. The dream-team of director Sharat Katariya and producer Maneesh Sharma have teamed up for this Yash Raj Films' (YRF) entertainer that is set to release on September 28 this year.
Photo / Video courtesy: YRF