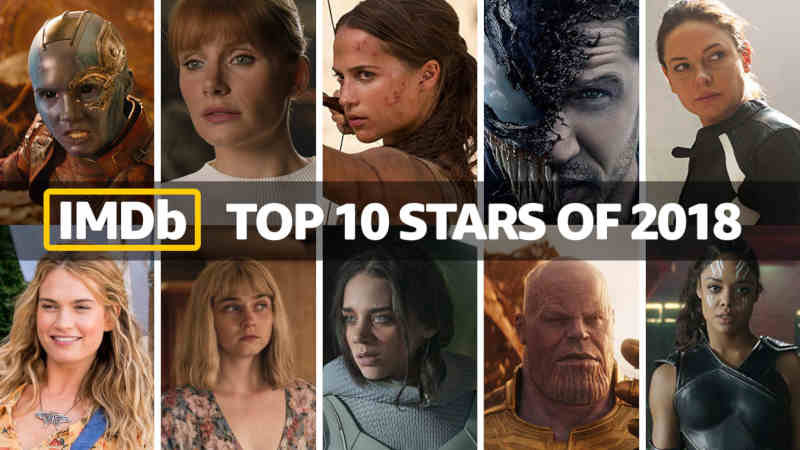 Leading entertainment site IMDb announced Tuesday the Top 10 Stars and Top 10 Breakout Stars of 2018. Rather than base its annual rankings on small statistical samplings, reviews of professional critics, or box office performance, IMDb determines its definitive top 10 lists using data from IMDbPro STARmeter rankings, which are based on the actual page views of monthly unique visitors to IMDb.
The IMDb Best of 2018 section features a variety of additional year-end Top 10 lists, more of which will be unveiled in the coming weeks, as well as retrospective photo galleries, trailers, original videos, and other year-end coverage. The 2018 winners are:
IMDb Top 10 Stars of 2018
1. Karen Gillan
2. Bryce Dallas Howard
3. Alicia Vikander
4. Tom Hardy
5. Rebecca Ferguson
6. Lily James
7. Jessica Barden
8. Hannah John-Kamen
9. Josh Brolin
10. Tessa Thompson
IMDb Top 10 Breakout Stars of 2018*
1. Jessica Barden
2. Hannah John-Kamen
3. Tessa Thompson
4. Martha Higareda
5. Michael B. Jordan
6. Olivia Cooke
7. Noah Centineo
8. Kiernan Shipka
9. John Krasinski
10. Jacob Elordi
*Among the select group of stars who charted on the IMDb annual Top 100 list for the first time in their careers in 2018; these 10 stars consistently ranked highest on the IMDbPro STARmeter chart throughout the year.
Photo: IMDb