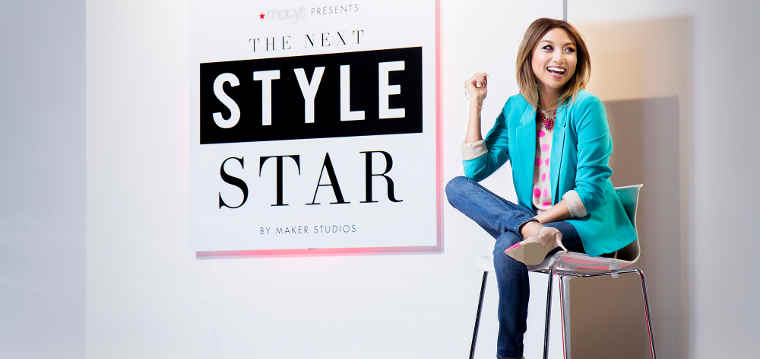 Macy's "The Next Style Star" will debut April 3 on Maker's fashion and beauty network, The Platform, and macys.com/stylestar.
Macy's and Maker Studios, a producer of online video content for Millennials, today announced a collaboration to launch an original fashion-lifestyle series—"The Next Style Star."
This program will feature 16 up-and-coming stylists battling head-to-head for a $10,000 cash prize, a chance to serve as a guest stylist on an upcoming Macy's photo shoot, and have his or her winning look featured in the Impulse Department at Macy's Herald Square in New York City.
"With an ongoing focus on the Millennial customer, Macy's is passionate about creating innovative partnerships that will result in fresh, entertaining and useful content for our customers," said Martine Reardon, Macy's chief marketing officer.
[ Click here for Advanced Digital Marketing Services ]
The 10-episode series will be hosted by TV personality, fashion expert and makeup artist Jeannie Mai.
The series will feature a variety of judges, including reality star and designer Whitney Port, MADE Fashion Week founder Jenne Lombardo, and Maker partner Wendy Nguyen, among many other fashion experts.
"The Next Style Star" will challenge each stylist's ability to create the perfect look for any occasion utilizing Macy's Impulse brands including Lucky Brand, Maison Jules, Sanctuary, RACHEL Rachel Roy, Guess, Bar III, Joe's Jeans, Kensie and MADE Fashion Week for Impulse.
[ Also Read: Nicole Richie Tweets for New VH1 Series "#CandidlyNicole" ]
Following the premiere episode, two of the 16 stylists will compete in different challenges each week, focusing on the season's latest trends for a shot at becoming "The Next Style Star."
Throughout the series, contestants will be able to prompt fans to advocate for their success by sharing episodes featuring their favorite stylists.
New episodes will go live every Thursday at 1 p.m. EST, following the April 3 debut.
Beginning April 3, customers can visit The Platform and macys.com/stylestar to watch episodes of the "The Next Style Star."