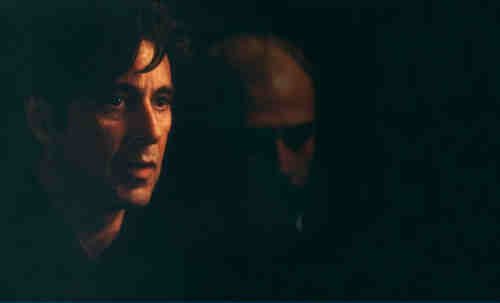 The Academy celebrates Michael Mann's 1995 classic, "Heat," on the big screen on Wednesday, September 7, at 7:00 p.m. at the Academy's Samuel Goldwyn Theater in Beverly Hills with a new 4K DCP restoration.
Following the screening, Oscar winners Pacino and De Niro, four-time Oscar nominee Mann and other cast and crew will reunite in a conversation moderated by Oscar nominee Christopher Nolan.
The crew of a fierce, professional thief (De Niro) and an obsessively driven LAPD detective (Pacino) are locked in deadly opposition as they vector towards each other.
[ Academy Launches 12 Technology Areas for Oscars ]
Taking inspiration from his friend, Chicago Detective Charlie Adamson – who killed Neil McCauley in a shoot-out in 1963 – Mann built a twilight vision of Los Angeles.
HEAT
Written and Directed by Michael Mann

Produced by Michael Mann and Art Linson

Executive Producers Arnon Milchan and Pieter Jan Brugge

Director of Photography Dante Spinotti

Production Designer Neil Spisak

Film Editors Dov Hoenig, Pasquale Buba, William Goldenberg and Tom Rolf

Music by Elliot Goldenthal

Costume Designer Deborah L. Scott

Sound by Lee Orloff, Andy Nelson, Chris Jenkins and Doug Hemphill

Casting by Bonnie Timmermann

Cast: Al Pacino, Robert De Niro, Val Kilmer, Tom Sizemore, Diane Venora, Amy Brenneman, Dennis Haysbert, Ashley Judd, Mykelti Williamson, Wes Studi, Ted Levine, William Fichtner, Natalie Portman, Tom Noonan, Kevin Gage, Hank Azaria, Susan Traylor, Kim Staunton and Jon Voight

Running time: 172 minutes

Format: "Heat" will be presented in a new 4K DCP, restored by Stefan Sonnenfeld (Company 3) and Michael Mann.
With its range of complex characters, epic scale action and dazzling use of the city, Academy says "Heat" is as incendiary as it was 20 years ago.
Photo courtesy: The Academy