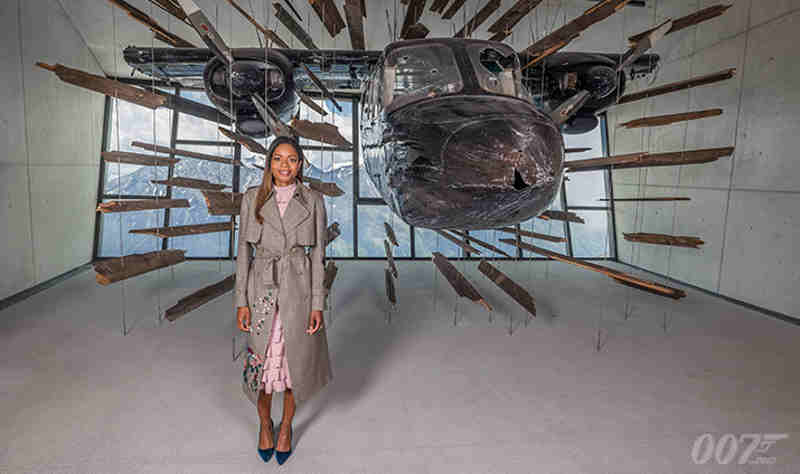 007 ELEMENTS, a new James Bond experience situated within the summit of the Gaislachkogl mountaintop in Sölden, Austria is now open to the public.
The cinematic installation was officially opened by actress Naomie Harris who plays Moneypenny (SPECTRE, SKYFALL) and Jakob Falkner Managing Director of Bergbahnen Sölden.
After visiting 007 ELEMENTS for the first time, Harris commented: "It's fantastic to be here today at the launch of the brand new exhibition in this amazing location at the top of the Gaislachkogl mountain in Sölden".
At over 3,000m above sea level, 007 ELEMENTS is the highest experience of its kind taking visitors on a journey through a series of nine galleries and an outside plaza with stunning views of the Alps.
The dramatic spaces complete with an immersive soundscape showcase the fundamental elements that define the James Bond films placing visitors inside the world of 007 and revealing how that world is made. Construction of the 1,300sqm permanent structure started in May 2017 and was completed just over one year later.
Visitors to 007 ELEMENTS will see the original Land Rover Defender and Range Rover Sport SVR from SPECTRE and learn how the thrilling action sequences were filmed in Sölden.
Also featured are four James Bond OMEGA watches including the Seamaster 300 from SPECTRE, the laser watch from GOLDENEYE, the Seamaster Quartz from TOMORROW NEVER DIES, and the Piton from THE WORLD IS NOT ENOUGH. In addition to the stylish uniforms designed by Bogner for the 007 ELEMENTS team, several iconic Bogner ski suits worn by Bond are on display.
007 ELEMENTS is accessed via the Gaislachkoglbahn Gondola in the resort village of Sölden. Open daily from 09:00 to 15:30, tickets are available online or from the Bergbahnen Sölden ticket offices and cost €22 for adults, €12 for children. You can click here for further information.
Photo courtesy: 007 site