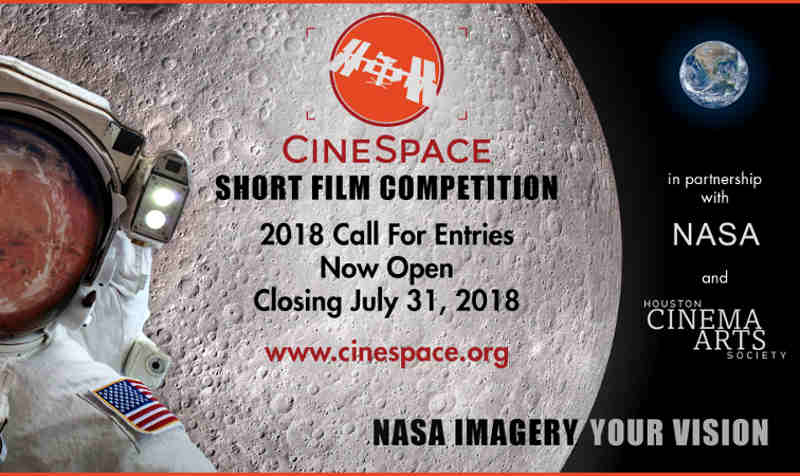 NASA and the Houston Cinema Arts Society will offer filmmakers around the world a chance to share their works inspired by — and using — actual NASA imagery through "CineSpace," a short-film competition.
In 2017, the third annual CineSpace competition drew almost 700 entries from 55 countries. Thirteen finalists premiered their films at the Houston Cinema Arts Festival at the Rice Media Center in Houston.
Films featuring NASA-captured imagery and video collected throughout the agency's nearly 60-year history will be judged on creativity, innovation and attention to detail.
In addition to being screened at the CineSpace awards ceremony during the Houston Cinema Arts Festival, winners and finalists may be screened at other film festivals across the country, as well as on NASA TV and even on the International Space Station.
The competition is open to all filmmakers, both professional and aspiring. Submissions of all genres, including narrative, documentary, comedy, drama, animation, experimental and others, up to 10 minutes running time, will be accepted using the Tongal platform. Entries must use at least 10 percent publically available NASA imagery.
The submission period is now open and closes Aug. 1, 2018. Finalists and winners will be announced at a CineSpace event during the Houston Cinema Arts Festival in November.
Entries will be competing for $26,000 in prizes with cash awards going to the top three submissions as well as the two films that best demonstrate the "Concept of 'Moon, Mars and Beyond'" and "Innovation and Inclusion in Science and Technology."
The Houston Cinema Arts Society is a nonprofit organization created in 2008 that organizes and hosts the annual Houston Cinema Arts Festival, an arts festival featuring films and new media by and about artists in the visual, performing and literary arts.
The Tenth Annual Houston Cinema Arts Festival will take place from Nov. 8-12, 2018.
Photo courtesy: NASA