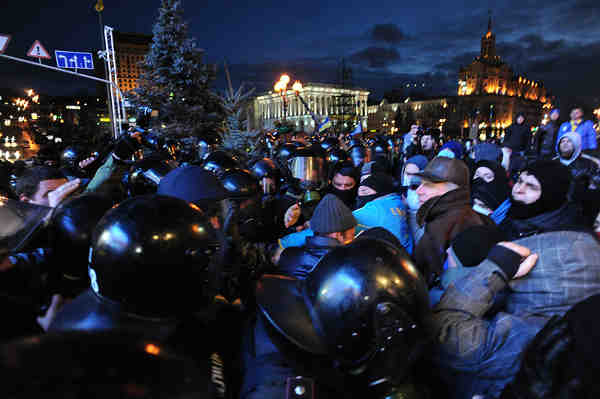 Netflix, the world's leading Internet TV network, will premiere the original documentary Winter on Fire: Ukraine's Fight for Freedom, directed by Evgeny Afineevsky, on Friday, October 9, 2015 exclusively to Netflix members worldwide.
Chronicling events that unfolded over 93 days in 2013 and 2014, Winter on Fire: Ukraine's Fight for Freedom witnesses the formation of a new civil rights movement in Ukraine.
What started as peaceful student demonstrations supporting European integration morphed into a full-fledged violent revolution calling for the resignation of the nation's president.
The film captures the remarkable mobilization of nearly a million citizens from across the country protesting the corrupt political regime that utilized extreme force against its own people to suppress their demands and freedom of expression.
The documentary is set to make its world premiere at the 72nd Venice Film Festival in September.
"Evgeny has assembled a cinematic tribute to the heroism, spirit and determination of the Ukrainian people," said Lisa Nishimura, Netflix VP of Original Documentary Programming. "We are honored to provide a global platform for him to share his powerful narrative."
[ Rocket Attacks in Ukraine: Civilian Death Toll Rising ]
The Winter on Fire: Ukraine's Fight for Freedom filmmakers investigated the escalating political crisis in Ukraine from directly within the conflict zone. At the onset of demonstrations, they were there to record the special forces who were deployed to disperse the crowds, beating and seriously injuring hundreds of protesters.
It was this moment that ultimately gave rise to mass protests and large-scale civil unrest in the country. In response, millions of Ukrainians rallied together to fight against the police state.
Through interviews with protesters, activists, journalists, medical workers, artists and clergy representing multiple generations, social classes, nationalities and faiths, including a twelve-year old volunteer, the film tells the story of a diverse movement that self-organized towards one common goal, that stood their ground in the midst of extreme bloodshed, despair and the harshest of conditions.
Winter on Fire: Ukraine's Fight for Freedom is Evgeny Afineevsky's third feature documentary. He has produced over ten feature and short films, including the 2002 adaptation of Crime & Punishment, starring Vanessa Redgrave, Crispin Glover, John Hurt and Margot Kidder.
He also produced and directed numerous TV projects. His feature directorial debut, Oy Vey! My Son is Gay! has garnered numerous awards at film festivals globally.
The Netflix original documentary Winter on Fire: Ukraine's Fight for Freedom is produced by Netflix, Afineevsky – Tolmor Production, UkrStream.TV and SPN Production, in association with Passion Pictures, Campbell Grobman Films and Rock Paper Scissors Entertainment.
The film is produced by Evgeny Afineevsky and Den Tolmor. John Battsek, Lati Grobman, Christa Campbell, Lisa Nishimura, Adam Del Deo, Angus Wall, David Dinerstein, Andrew Ruhemann, Dennis L. Kogod, Nadine Khapsalis Kogod and Bohdan Batruch serve as Executive Producers.
This article is part of our editorial section
Wars and Conflicts
that carries related news and views from all parts of the world.
Photo courtesy: Wikimedia Commons