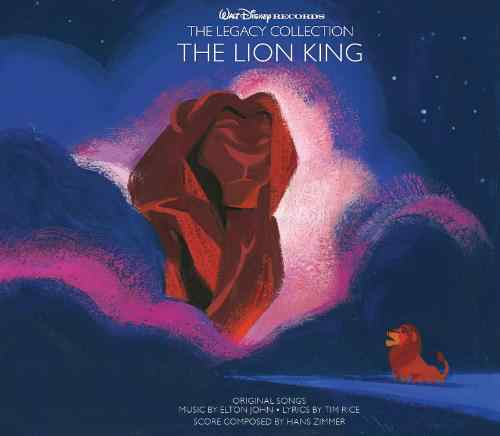 Walt Disney Records' newly created line of collectible CDs, Walt Disney Records The Legacy Collection, will celebrate the anniversaries of Disney's most cherished and classic films.
Launching the line today, June 24, is The Lion King 2-disc set, coinciding with the film and soundtrack's 20th anniversary.
Walt Disney Records The Legacy Collection The Lion King features the original soundtrack, plus 30 minutes of previously unreleased score and 7 score demos by Oscar-winning composer, Hans Zimmer. Zimmer also provides detailed notes for each score demo.
Don Hahn, the film's producer, contributed liner notes and provides an overview of how the coming of age story set in Africa evolved to become a phenomenon.
The film's music went on to win 2 Academy Awards in 1994 (Original Song and Original Score), 4 Grammy Awards and 2 Golden Globes.
The CD cover and 20-page booklet feature newly created artwork inspired by "The Lion King" from Lorelay Bove, a visual development artist at Walt Disney Animation Studios ("Tangled," "Winnie the Pooh," "Wreck-It Ralph").
Later this year, Bove's art can be seen in the hardcover book, Lovely: Ladies of Animation: The Art of Lorelay Bove, Brittney Lee, Claire Keane, Lisa Keene, Victoria Ying and Helen Chen.
The CD booklet also includes a 6-page sampling of visual development art from the film, with notes by Dave Bossert, Producer / Creative Director at Walt Disney Animation Studios.
The second release from The Legacy Collection will celebrate the 50th Anniversary of Mary Poppins and will be available on August 26, 2014.
The 3-disc set will include the songs and score from the film, rare-behind-the scenes recordings, new recordings of The Lost Chords, excerpts from the P.L. Travers story meetings with Don DaGradi and the Sherman brothers, plus the Hollywood Spotlight Microphone 1965 post-premiere interviews and a 1989 interview with the Sherman brothers.
Walt Disney Records The Legacy Collection The Lion King 2-disc set will be available here.