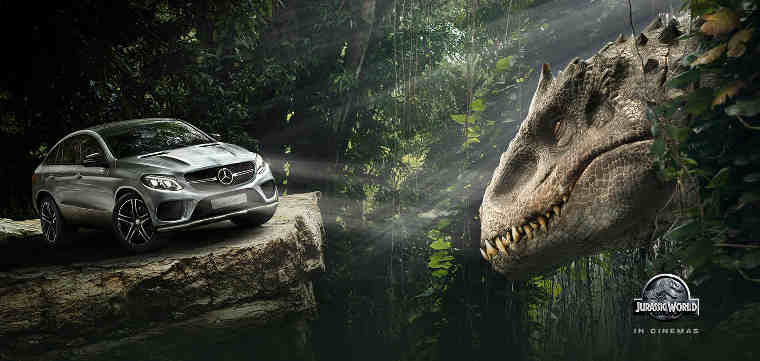 A roadblock broadcast of the original Jurassic Park will be hosted by three-time Academy Award winner Steven Spielberg and Chris Pratt, the star of Universal Pictures and Amblin Entertainment's Jurassic World, beginning on June 5 and concluding on June 6, it was announced Friday.
They will also introduce a two-minute, exclusive sneak preview of Jurassic World, which arrives in theaters on June 12.
Spielberg and Pratt will share their respective memories of Jurassic Park and drive to a debut of a two-minute exclusive sneak preview of Jurassic World, which will air during the program.
[ Mercedes-Benz to Support Universal Pictures' Jurassic World ]
This first opportunity to see new material from the upcoming film will be aired on June 5 beginning at 8:00 p.m. EDT/8:00 PDT on NBC.
The following evening, on June 6 at 8:00 p.m. EDT/8:00 p.m. PDT, the program will air on Bravo, Syfy, USA Network, E! and NBC UNIVERSO. For its part, NBC UNIVERSO will telecast a Spanish language version of Jurassic Park.
Jurassic World
The story of Steven Spielberg's original comes full circle as the park that was only a promise comes to life. Welcome to Jurassic World, a fully operational luxury resort off the coast of Costa Rica where 20,000 guests explore the wonder of Earth's most magnificent living prehistoric marvels—of every shape and size—and interact up close with them every day.
When the massive and mysterious Indominus rex stages an escape and disappears into the jungle, order turns to mayhem and guests turn into prey. Dinosaurs escape into the open, skies and water to engage in an all-out war for survival, and no corner within the world's greatest theme park is safe anymore.
Chris Pratt, Bryce Dallas Howard, Vincent D'Onofrio, Ty Simpkins, Nick Robinson, Omar Sy, BD Wong and Irrfan Khan star in the 3D epic action-adventure that is directed by Colin Trevorrow and based on characters created by Michael Crichton.
The screenplay is by Rick Jaffa & Amanda Silver and Derek Connolly & Trevorrow, and the story is by Rick Jaffa & Amanda Silver. Frank Marshall and Patrick Crowley join the team as producers.