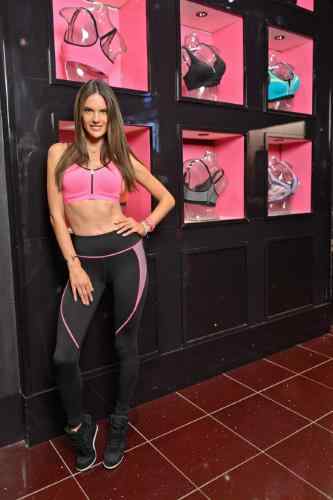 Victoria's Secret supermodel Alessandra Ambrosio introduced the new Knockout by Victoria's Secret front-close sport bra Wednesday at the North Michigan Avenue store in Chicago.
She urged fans to break up with their old sport bra and find their perfect match.
Knockout by Victoria's Secret has the newly patented front-close which was the most requested feature added to the sport bra, says the company.
[ Also Read: Playtex Play Bra Features Technology for a Flexible Fit ]
According to the company, Knockout by Victoria's Secret provides maximum support and is perfect for running, boxing and high-impact workouts.
"We are very excited to debut Knockout by Victoria's Secret as the latest addition to our successful Sport Bras collection," said Sharen Jester Turney, president and CEO of Victoria's Secret.
[ Click here to meet more stunning models ]
"This bra, which incorporates patented technology for superior support and performance, is another example of how Victoria's Secret continues to deliver innovation and newness to our customers."
Knockout by Victoria's Secret can be purchased at its site, in the catalogue, and at Victoria's Secret stores.
You can learn more about VS Angel Alessandra Ambrosio here.
In the picture above: Supermodel Alessandra Ambrosio introduces Knockout By Victoria's Secret at North Michigan Avenue on May 28, 2014 in Chicago, Illinois. Photo by Daniel Boczarski / Getty Images for Victoria's Secret.