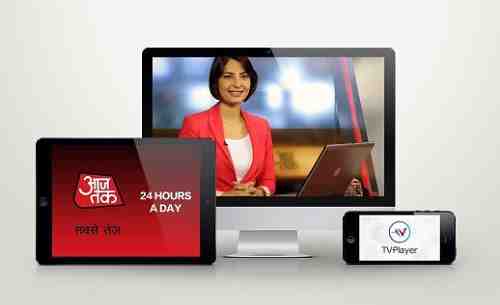 Aaj Tak, a leading Hindi News channel in India, is the latest channel to join the Desi (local Indian) pack on TVPlayer.
The launch of Aaj Tak on TVPlayer will enhance its channel reach via multi-platform viewing opportunities across web, mobile and tablet, making the channel available to a wider audience of the Indian population residing in the UK.
Aaj Tak telecasts programmes such as Dharam, Movie Masala, Mumbai Metro, Seedhi Baat, Saas Bahu Aur Betiyaan, and others.
"It is great to expand our offering on to a new OTT / IPTV platform in the United Kingdom. This partnership will engage more audiences globally," said Salil Kumar, COO, India Today Group Digital.
[ Also Read: 10 Reasons I Like Indian TV Shows ]
"Our Desi pack has been an incredible success since it launched this year; its content often representing over 10% of all total viewing, in any given day. Our new partnership with Intoday means that we have topical and breaking news from Aaj Tak, further strengthening our overall channel offering," said Lewis Arthur, platform manager of TVPlayer.
TVPlayer is an OTT platform launched in the UK by Simplestream, which streams live TV across multiple devices from some of the UK's favourite free-to-air broadcasters.
Launched in December 2013, TVPlayer offers over 40 channels spanning Entertainment, Kids, News, Desi and Lifestyle.