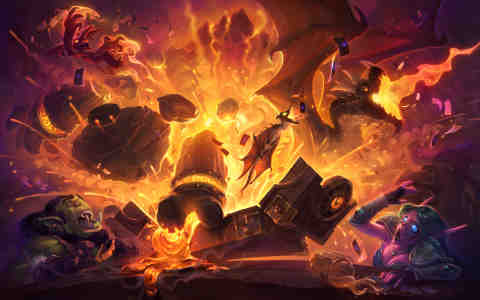 The first wing of Blackrock Mountain, the fiery new Adventure for Hearthstone: Heroes of Warcraft, has opened!
Blackrock Mountain pits players against a host of iconic hot-tempered foes across five challenging, magma-packed wings. Players who can handle the heat will be rewarded with a host of new cards to add to their collection.
In Blackrock Mountain, Hearthstone players find themselves amid a war between powerful forces battling for control of the legendary mountain. Deep within the mountain's core, duelists go toe-to-toe against fierce minions, including Dark Iron dwarves, fire elementals, and dragons, while facing off against legendary menaces from the Warcraft universe, such as Ragnaros the Firelord.
[ Also Visit: Robojit and the Sand Planet – The Story of the Future Universe ]
Card-slingers who extinguish these villains will reap a mighty reward—31 scorching new cards inspired by the mountain and its denizens, bringing a wealth of new tactical options to the ever-evolving Hearthstone metagame.
"Adventure Mode challenges players to think outside of the box and come up with creative new strategies," said Mike Morhaime, CEO and cofounder of Blizzard Entertainment. "After the new bosses and unique mechanics in Blackrock Mountain put their skills to the test, we can't wait to see how players use all the new cards in their decks."
The first wing of Blackrock Mountain—Blackrock Depths—opened Thursday with one additional wing opening each of the following weeks throughout April.
Each of the Adventure's five wings is available for purchase separately for 700 gold or $6.99 per wing. For those brave enough to take on the Mountain in its entirety, a complete Blackrock Mountain bundle package is also available for $24.99.
Blackrock Mountain is available now in the Americas region for Windows, Mac, iPad, and Android and Windows 8 tablets, and will be available April 3 in the Europe and Asia regions.
Hearthstone: Heroes of Warcraft and Blackrock Mountain are coming soon to mobile phones.
Blizzard Entertainment, Inc., a division of Activision Blizzard (NASDAQ: ATVI), is a premier developer and publisher of entertainment software.