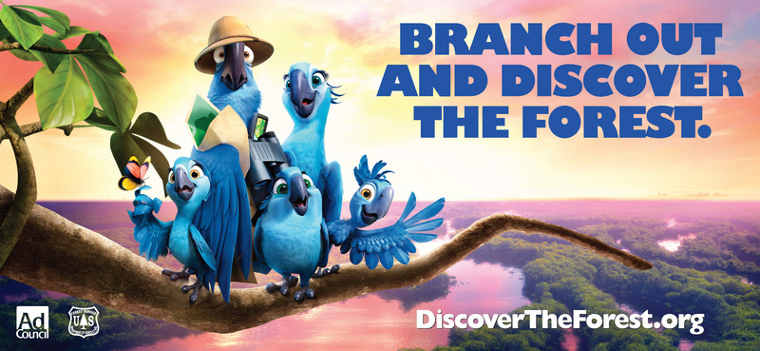 In an effort to encourage children to spend more time outdoors and reconnect with nature, the U.S. Forest Service and the Ad Council are joining 20th Century Fox to launch a new series of public service advertisements (PSAs) featuring scenes and characters from the upcoming animated feature Rio 2.
The PSAs are an extension of the U.S. Forest Service and Ad Council's Discover the Forest campaign. Initially launched in 2008, the Discover the Forest campaign encourages parents and their families to get outside and experience the many benefits of the forest—fresh air, active play and beautiful scenery.
The goal of the campaign is to instill a love for nature in children, ultimately creating a lifelong interest and legacy of stewardship through first-hand experience.
Created by 20th Century Fox, the new PSAs feature Blu, Jewel, and their family of blue macaws on a journey to reconnect with their roots in the wilds of the Amazon, encouraging both parents and children to discover the adventure waiting in the forest.
Celebrity voices in the PSAs include Anne Hathaway, Jesse Eisenberg, Pierce Gagnon, Jamie Foxx, Rachel Crow, Amandla Stenberg, will.i.am, Bruno Mars, and Andy Garcia.
The PSAs encourage children and their parents to visit www.DiscoverTheForest.org where they can find ideas for outdoor activities and an interactive map tool — powered by Google and Nature Find — that enables users to search for nearby forests and parks.