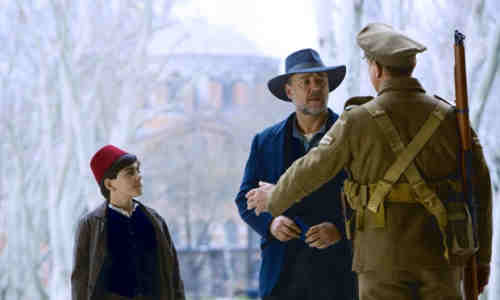 IMAX Corporation, Warner Bros. Pictures and RatPac Entertainment announced Monday that The Water Diviner, the feature film directorial debut from Academy Award winner Russell Crowe (Gladiator), will release into select IMAX theatres April 24.
The Water Diviner is an epic tale of one man's life-changing journey of discovery. Crowe also stars in the film as Australian farmer Joshua Connor, who goes in search of his three missing sons, last known to have fought against the Turks in the bloody Battle of Gallipoli.
Arriving in Istanbul, Joshua Connor is thrust into a vastly different world, where he encounters others who have suffered their own losses in the conflict: Ayshe (Olga Kurylenko), a strikingly beautiful but guarded hotelier raising a child alone; her young, spirited son, Orhan (Dylan Georgiades), who finds a friend in Connor; and Major Hasan (Yilmaz Erdogan), a Turkish officer who fought against Connor's boys and who may be this father's only hope.
With seemingly insurmountable obstacles in his path, Connor must travel across the battle-scarred Turkish landscape to find the truth… and his own peace.
The film's international ensemble cast also includes Cem Yilmaz, Jai Courtney, Ryan Corr, James Fraser, Ben O'Toole, Steve Bastoni, and Jacqueline McKenzie.
Crowe directed The Water Diviner from a screenplay by Andrew Knight and Andrew Anastasios, who were also executive producers on the film.
The film was produced by Andrew Mason, Keith Rodger and Troy Lum, with James Packer, Brett Ratner, Kerry Stokes, Tim Worner, Angus Ross and John Collee also serving as executive producers.