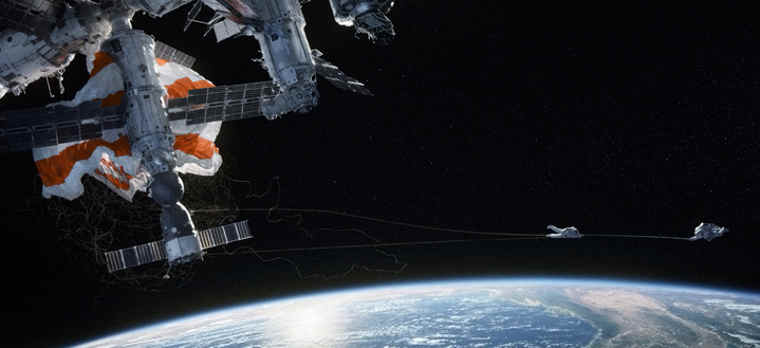 The Academy of Motion Picture Arts and Sciences (Academy) will present "Deconstructing Gravity" hosted by Academy governor Bill Kroyer.
Scheduled to take place Monday, May 12, the event will take an in-depth look at the groundbreaking production methods used in the Oscar-winning film "Gravity." It will feature an onstage discussion with members of the film's creative teams.
Special guests will include Oscar-winning visual effects supervisor Tim Webber, Oscar-winning film editor Mark Sanger, animation supervisor Max Solomon, and other guests to be announced.
[ Also Read: Craig Zadan and Neil Meron to Produce the 2015 Oscars ]
""Before you know it, you find yourself in the middle of the ocean. You don't know how far away you are from land and the only choice you have is to keep on moving," said director Alfonso Cuarón on the challenges of shooting "Gravity."
It took over 4 ½ years for director Alfonso Cuarón and his Gravity team to overcome the many difficulties of realistically simulating the weightlessness of outer space. Along the way, they created cutting-edge technologies that revolutionized the world of visual effects.
Gravity tells the story of Dr. Ryan Stone (Sandra Bullock), an engineer on her first space mission who finds herself alone and struggling to survive after satellite debris strands her miles above the Earth.
[ Also Read: Is Sandra Bullock Really the No. 1 Hollywood Star? ]
The film's emotional story, technological achievements and powerful work both in front of and behind the camera resonated with the public and Academy voters, resulting in 10 Academy Award nominations and seven wins.
This year's Oscar winner for Cinematography, Directing, Film Editing, Original Score, Sound Editing, Sound Mixing and Visual Effects, Gravity is supposed to remain a benchmark for future filmmakers.
The evening will include film sequences and "making of" clips that illustrate presentations and panel discussions on Gravity's creative challenges and production processes.
[ Also Visit: Robojit and the Sand Planet – The Story of the Future Universe ]
Topics will include extended shot lengths, massive rendering tasks, and the extensive and unusually precise application of previsualization needed to address the complexities of integrating live action and CG.
The event will take place at DGA Theater, 7920 Sunset Boulevard, Los Angeles, CA 90046.
The Academy of Motion Picture Arts and Sciences is the world's preeminent movie-related organization, with a membership of more than 6,000 of the most accomplished men and women working in cinema.
Photo courtesy: Academy of Motion Picture Arts and Sciences