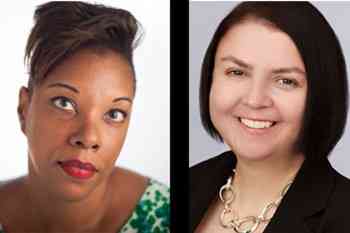 Julie La'Bassiere and Lisa Harrison to begin respective roles on June 1, 2015.
The British Academy of Film and Television Arts New York (BAFTA New York) has announced that Julie La'Bassiere will become its new Chief Executive Officer, effective June 1. Lisa Harrison will become Chief Operating Officer, a new role for the organization.
Current CEO Christina Thomas will continue to be part of the BAFTA New York team in the role of Development Consultant.
As a top level marketing executive for distributors, brands, content creators and film festivals, Julie La'Bassiere has worked with companies including Fox Searchlight, IFC, Comcast, iTunes, Hulu, Time Warner, Sundance, Entertainment Weekly and FilmBuff.
Most recently, La'Bassiere founded Tall Bird Marketing and Strategy, where she created and managed brand and product development and marketing strategies for filmmakers as well as organizations including IFP, the Tribeca Film Institute, 108 Media and Mortarboarder.
Prior to that, La'Bassiere was head of marketing at FilmBuff, where she oversaw publicity, marketing, editorial and branding strategy for all the company's titles.
La'Bassiere will be joined by BAFTA New York's new COO, Lisa Harrison, whose focus will be on the day-to-day operations of the organization including oversight of its year-round program of screenings and Q&As.
A BAFTA New York board member and long-time Screening Committee Co-Chair, Harrison worked for BBC Worldwide for 20 years, most recently serving as Operations Director, where she managed all aspects of BBC Worldwide's footage licensing partnership with CBS News.
After 20 years at BAFTA New York, Christina Thomas will step down as CEO to take up the newly created position of Development Consultant, where she will be responsible for expanding the non-profit's funding resources by overseeing and implementing new approaches to fundraising that will increase revenues to support the strategic direction of the organization.