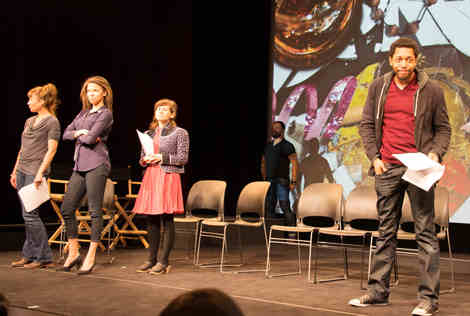 The British Academy of Film and Television Arts (BAFTA), in partnership with Rocliffe, and supported by The London Book Fair, announced Monday a call for scripts from emerging writers.
The call is for the first ever BAFTA Rocliffe New Writing Forum focussed on children's media, offering entrants the chance to present their work to influential members of the film and television industries.
The BAFTA Rocliffe New Writing Forum is a long-running initiative which aims to give a platform to undiscovered screenwriters and help them to develop their careers.
The writers of the three successful projects will have extracts from their scripts performed by professional actors at a showcase event at BAFTA headquarters, 195 Piccadilly in London, on Saturday September 27.
In addition to gaining feedback from attendant experts, one writer from the three projects, selected by The London Book Fair, will receive an expenses-paid trip and full delegate pass to the MIP Junior international children's programming market in Cannes in October, where they will benefit from extensive industry introductions and networking opportunities, organised by The London Book Fair.
Entries will be judged by an industry jury of writers, commissioners, agents, producers and development executives from companies including BBC, Blue Zoo Animation, Channel Five, Coolabi, David Higham Associates, Heyday Films, HIT Entertainment, ITV, Kindle Entertainment, Lime Pictures and Turner Broadcasting.
"BAFTA is proud to host the inaugural BAFTA Rocliffe New Writing Forum focussed on children's film and television," said Harvey Elliott, Chair of the BAFTA Children's Committee.
Applicants must submit a ten page extract and be available on Saturday September 27 for the showcase event at BAFTA, and from Saturday 11 to Sunday 12 October to attend MIP Junior in Cannes, France.
Applications are open for British-based screenwriters to submit scripts with a focus on content for children and families across a range of forms including feature film, single drama, mini-series, sitcom, comedy-drama and animation. The final deadline for submissions is Monday September 1.
Photo courtesy: BAFTA